Funding Available for Autism Friendly Inverclyde
Friday 20 July 2018
Local groups are being urged to apply for funding from Inverclyde Council to help improve the lives of local people living with autism.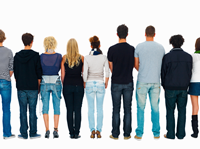 Grants of at least £5000 are available as part of the Council's Autism Strategy which aims to develop services, training and support.
Applications received by Friday 17 August 2018 will be considered by the Grants Sub Committee.
Chair Councillor Graeme Brooks said: "One of the areas we are particularly looking to develop is making sure there is enough support and training in place pre and post diagnosis.
"Autism is a lifelong developmental disability affecting how a person communicates with, and relates to, other people and how they make sense of the world around them.
"Autism is a complex disability and people are affected in different ways so it is vital that we have a flexible and sympathetic network in place that can be tailored to suit every individual's needs."
A total of £200,000 is available for projects that will raise awareness and improve training for frontline staff; provide services for children with autism as they grow into adulthood and beyond; and schemes offering pre and post-diagnoses support.
The Inverclyde Autism strategy was developed by Inverclyde Health & Social Care Partnership working with families and individuals affected by autism alongside staff working in the public and voluntary sectors.
The ten year plan aims to develop positive and supportive networks, a co-ordinated autism training plan and to deliver access to assessment, diagnosis and support.
The Autism Implementation Group's members represent the adult and children's services within the HSCP, education, the Council, voluntary groups, the independent housing sector as well as service users and carers.
Guidance notes and registration/application forms are available to download from the Council's website https://www.inverclyde.gov.uk from Safer Communities, The James Watt Building, 105 Dalrymple Street, Greenock, PA15 1HU, by e-mailing safer.communities@inverclyde.gov.uk or by calling 01475 714298.
Page last updated: 20 July 2018