Voluntary Groups Benefit from Council Grants
Friday 6 July 2018
Bowling clubs, pipe bands and volunteers are among the community groups to benefit from one-off grants from Inverclyde Council.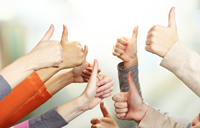 A total of £190,334.88 is to be paid out from the Grants to Voluntary Organisations Fund.
Chair of the Council's Grants Sub Committee Councillor Graeme Brooks said: "We had nearly 90 applications for funding and carefully considered each one as we understand how vital this money can be to voluntary groups and organisations.
"I am delighted that we have been able to make these awards and am sure everyone involved will use the funds to continue the important work they carry out in their local communities."
In addition to the one-off awards £18,600 will be allocated from the Grants to Voluntary Organisations Fund to pay commercial rents for the Samaritans, Youth Connections, Murdieston Dam Boat Club and 1st Gourock (8th Greenock & District) Scouts. £30,000 has also been earmarked to run summer playschemes at six locations across Inverclyde.
Councillor Brooks added: "This funding is a lifeline for so many groups who carry out so much good work in our communities. We are fortunate to be in a position to be able to award these grants and I know every single penny will be used to benefit a great many people."
Page last updated: 6 July 2018