Technology Investment Approved
Wednesday 28 March 2018
Inverclyde Council has approved a £145,000 investment to improve and develop its online services.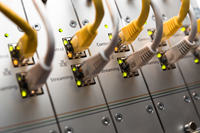 At the moment the majority consist of one way 'eforms' which generate an email to the Customer Service Centre who pass on the information to the appropriate service.
The Council's Policy & Resources Committee has approved the investment to develop 'pay for it', 'book it' and 'report it' type services across multiple platforms and channels.
Convener and Council Leader Councillor Stephen McCabe said: "The vast majority of people now use smartphones or tablets so it is vital we do all that we can to improve our digital and online interactions.
"This investment will allow is to increase the scope of services we are able to offer digitally and also provide a more joined-up process – improving the online experience of our customers and our own performance."
Over 95% of the population of Inverclyde have access to super-fast broadband and free Wi-Fi is available in all of Inverclyde's public libraries.
In 2017, eight in ten (83%) UK adults aged 16+ say they have broadband internet
access at home, and nine in ten (89%) UK adults aged 16+ say they use the internet
either at home or in other locations. Use of the internet anywhere (i.e. at home or in
other locations) has increased since 2016. As in previous years, differences by age
group are considerable; 99% of 16-24s say they use the internet, compared to 50%
of those aged 75+. (Source: Ofcom)
Page last updated: 28 March 2018