Consultation on Inverclyde Local Development Plan 2018
Tuesday 1 May 2018
A public consultation is underway on an Inverclyde Council planning document setting out how and where investment and development can take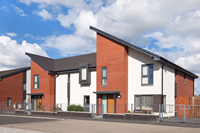 place.
The Local Development Plan supports three key priorities – repopulation, reducing inequalities and environment, culture and heritage.
Environment & Regeneration Convener Councillor Michael McCormick said: "Inverclyde already has so much to offer as a place to live, work, study, visit and invest in all of which needs protecting and preserving. However we also need to encourage investment and new development which is sustainable and contributes to the continued and long-term success of Inverclyde.
"This Local Development Plan has at its heart the protection of Inverclyde's heritage while making provision for new investment and developemnt in a wide range of sustainable location. By putting this plan in place there should be no constraint to the continuing transformation of Inverclyde over the coming years."
The proposed Local Development Plan identifies land for over 5000 new houses and over 20 hectares of land for new industrial and business development.
It also recognises historic and protected buildings and places – 248 listed buildings, 31 scheduled monuments and 57 local nature conservation sites – supports low carbon infrastructure and aims to reduce the risk of flooding.
The consultation runs until 29 June 2018 and the new proposed Local Development Plan can be downloaded at www.inverclyde.gov.uk/newldp Printed copies are available in libraries and Inverclyde Council's Customer Service Centre, Clyde Square, Greenock.
Following the consultation period any unresolved objections will be considered at a Local Development Plan examination which will be led by an independent Scottish Government appointed reporter.
Planning policy staff will be happy to answer any queries on the Plan. Available through ldp@inverclyde.gov.uk and 01475 712491
For more details visit the consultation section of the Council website via the link on this page.
Page last updated: 1 May 2018