New Look for Busy Greenock Car Park
The layout of a busy Greenock town centre car park is to be changed in a move aimed at easing congestion.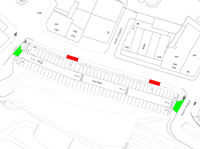 A new dedicated entrance to the Cathcart Street car park will be created from Watt Place with a new exit at the opposite end on Bank Street.
Environment & Regeneration Convener Councillor Michael McCormick said: "We have had a number of requests to look at the layout of the car park given the congestion that can build up on Cathcart Street itself with cars coming in and out at the same time.
"The new layout will help to ease the congestion in the car park itself and on the road by forming a dedicated entrance and exit making it one way. There is also the added benefit of an additional four spaces being created."
During the construction phase there will be some spaces temporarily out of use although much of the carpark will still be available.
All road markings will be refreshed along with new signs to advise drivers of the change.
Work is due to get underway on Monday 14 May 2018 and should last approximately four weeks.
Photograph A plan of the car park showing the current entrance/exit points (red) and the new dedicated entrance and exit (green)