Inverclyde's Duke of Edinburgh Achievements Praised
Wednesday 21 November 2018
Inverclyde Council's Duke of Edinburgh Awards programme is going from strength to strength.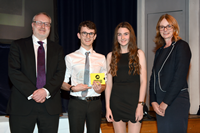 Nearly 200 young people have now completed their Bronze and Silver DofE awards and another nine have begun their Gold Leadership Award.
Alex Cumming, Assistant Director Scotland, the Duke of Edinburgh's Award said: "Duke of Edinburgh in Inverclyde is a real success story. We now have almost 400 young people participating, across all secondary schools, special schools and voluntary organisations.
"With over 260 young people completing full awards young people in Inverclyde are putting the YOYP themes into action and making a positive impact across their communities.
"The level of delivery wouldn't be possible without the commitment from the local authority, leaders and parents."
A recent ceremony was held at Greenock Town Hall where young people were presented with their awards.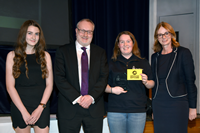 Provost Martin Brennan said: "Young people from all backgrounds and all areas of Inverclyde have the opportunity to take part in the award.
"The volunteering section of the award benefits our communities in many ways such as Scouts, Guides, Boys Brigade and Church Group Leaders, befriending and charity work.
"All of these voluntary hours highlight to local people the contribution young people of Inverclyde can make within their own community and helps to challenge any prejudice about young people.
"The Duke of Edinburgh Award in Inverclyde faces a bright future. It continues to grow and provide our young people with the opportunity to meet new and exciting challenges and to develop as individuals from this experience"
Two young people, Niamh Boyd and Jonathan Marshall, were presented with the inaugural Wilma Bain Award for outstanding achievement throughout their Gold Award.
Inverclyde Council's Community Learning and Development Service are responsible for promoting and running the Duke of Edinburgh Award throughout Inverclyde.
The CLD Youth Work Team provides various evening and weekend activities allowing every young person in Inverclyde aged 14 – 25 years to have the opportunity to complete their award at all three levels.
Members of Inverclyde's Duke of Edinburgh Voluntary Support Group give up their time to support the award and the young people involved in it, particularly in the lead up to expeditions and in assisting with their fundraising.
Photographs: Niamh Boyd and Jonathan Marshall with Ruth Binks, Corporate Director Education & Communities and David and Morven Bain.
Page last updated: 21 November 2018