Inverclyde Takes Top Health Award
Thursday 8 November 2018
An Inverclyde project has been won the Special Judges Award of Excellence at the NHS Greater Glasgow and Clyde staff awards.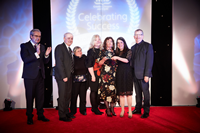 Inverclyde Home 1st aims to deliver health and social care in the home or community and maintain people's independence where possible.
Working closely with staff at Inverclyde Royal Hospital assessments on future care needs are made as early as possible in collaboration with the patient and family.
The majority of patients are assessed and discharged home as soon as they are deemed medically fit including those requiring a complex home care package or care home placement.
This has led to the development of a rapid discharge planning process and in some cases prevented hospital admission when it wasn't required.
The panel of judges were so impressed by the Inverclyde Home 1st entry they agreed – for only the fourth time in the eight years that the Chairman's Awards have been running – to make a special award of excellence.
Inverclyde Council's Health & Social Care Convener Councillor Robert Moran said: "Inverclyde HSCP have been developing the Home 1st strategy along with partners for a number of years and we are now sector leaders in reducing hospital bed days lost through delay.
"Colleagues work hard to help support vulnerable people to remain at home and I am delighted that their efforts have been recognised by such a prestigious award.
"I would like to pass on my congratulations to everyone involved."
Photograph (LtoR)
John Brown, Chairman NHSGGC, Allen Stevenson, Helen Morley, Margaret Duddy, Julie Greg, Ava Hallac and Alan Brown
Page last updated: 8 November 2018