CPR in Schools – Lessons to Save Lives
Monday 24 September 2018
All pupils at Inverclyde Council's secondary schools are being given compulsory lessons in lifesaving cardiopulmonary resuscitation (CPR).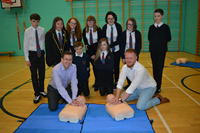 The Council has teamed-up with the British Heart Foundation Scotland to teach emergency response skills in an effort to reduce the number of lives lost from cardiac arrests.
Education & Communities Convener Councillor Jim Clocherty said: "The longer CPR is delayed after the heart stops pumping the worse the outcome - for every minute lost a victim's chance of survival drops by 10 per cent.
"But they often have to wait several minutes because of the public's lack of knowledge and fear of helping.
"So it is vital our young people are taught the simple, basic skills that can let them act immediately and save a life.
"Our young people will take those skills with them into adulthood and over time we should see a dramatic improvement in the number of people surviving out of hospital cardiac arrests."
Each school has been provided with training manikins as well as an instructional DVD to lead the training sessions.
A cardiac arrest is when the heart suddenly stops pumping blood around the body – unlike a heart attack which occurs when the blood supplying the heart muscle is cut off due to a clot in one of the arteries.
Daniel Jones from BHF Scotland, said: "This announcement is fantastic news. In committing to ensuring all pupils are trained in CPR before they leave school, Inverclyde Council have shown the vision and bravery to follow international evidence to fight back against Scotland's poor survival rates from out of hospital cardiac arrest (OHCA).
"By making this pledge to ensure all pupils are trained in CPR before they leave school, Inverclyde Council joins Dundee, Glasgow, Aberdeen, Perth and Kinross, Clackmannanshire, Renfrew and East Renfrewshire Councils in Scotland as exemplar local authorities.
"International evidence from Denmark, Norway and Seattle all shows that delivering a systematic and sustainable model of CPR training in schools leads to an increase in survival rates in out of hospital cardiac arrest and Inverclyde Council have made their intention clear by joining in the fight against poor survival rates in Scotland.
"Only 1 in 12 people will survive an out of hospital cardiac arrest in Scotland and Inverclyde Council, alongside other councils in Scotland, are all setting an example, by taking a stance, being ambitious and starting a journey towards building a nation of lifesavers."
Photograph: Councillor Clocherty with Daniel Jones and pupils from Inverclyde Academy in Greenock.
Page last updated: 24 September 2018