Free Sanitary Products Available in Inverclyde
Inverclyde Council is to roll out access to free sanitary products for pupils across all of its primary and secondary schools.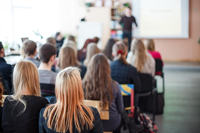 The Education & Communities Committee has also approved proposals for them to be available at libraries, youth clubs and community centres at weekends and school holidays.
Convener Councillor Jim Clocherty said: "We had already agreed in January to provide free sanitary products in all secondary schools before the Scottish Government announced their additional funding.
"We can now take a huge step towards banishing period poverty in Inverclyde by extending that provision to our primary schools as well as making products available at weekends and school holidays."
Inverclyde will receive £28,000 to purchase the sanitary products and suitable storage for the schools. Workshops and training sessions will also be organised to promote access.
Communities Vice Convener and Young People's Champion Councillor Natasha Murphy said: "I am delighted part of the development of these plans has involved young people themselves. It is vital their needs are met at all times and who better to tell us what we need to do.
"Providing access that protects dignity and avoids anxiety, embarrassment and stigma, will ensure that everyone can participate in education at all levels."