Official Opening for '5 Star School'
Thursday 27 September 2018
An Inverclyde Council primary school has been officially re-opened after undergoing a £5million transformation.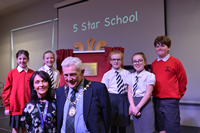 Moorfoot Primary in Gourock is the latest project to be completed in a £270million school estate investment programme.
Provost Martin Brennan performed the official opening. He said: "I was delighted to be able to mark the start of a new chapter in the story of Moorfoot Primary, nursery class and Garvel Deaf Centre.
"It has always been a very popular school but in recent years it wasn't what parents and children were entitled to expect.
"The school now has state of the art educational technology and In every way it is a very 21st century school. But we shouldn't lose sight of the fact that teachers and the quality of teaching remain the most important aspects of a child's education.
"For the Council Moofoot is one more facet of a commitment to educate every child in Inverclyde in a new or refurbished school. The modernisation of our schools estate has cost £270 million to date – a huge sum for a small authority.
"I am delighted we are on track to finish the job when every child in Inverclyde will go to a school which matches the Moorfoot standard by 2020."
The building has undergone a wide-range of improvements including wider corridors to create activity areas, refurbished classrooms with walk-in stores, a new learning resource centre and remodelled nursery and Garvel Deaf Centre.
Pupils and staff were decanted to the former Sacred Heart building in Greenock in February last year while the refurbishment work was underway.
Head Teacher Alison Irvine said: "Our building has undergone an impressive transformation and become a spectacular environment for learning in the 21st century.
"The pupils and staff are extremely happy and feel very proud of their new five star school - Moorfoot have come back home."
The refurbishment of Moorfoot has been delivered in partnership with hubWest Scotland and Glasgow-based contractor CCG (Scotland) Ltd.
A spokesperson from CCG said: "CCG was delighted to attend the official opening of Moorfoot Primary School and to meet all of the friendly pupils who seem to be loving their new surroundings.
" Refurbishments of any kind can be a challenge in construction however the standard of finish at Moorfoot Primary is exemplary and the changes will no doubt go a long way to improving the learning experience for staff and pupils.
"We thank our partners hub West Scotland and Inverclyde Council for their continued support throughout the construction programme."
Notes to editors:
Photograph: Alison Irvine and Provost Brennan with (LtoR) Robyn Lang, P7, Camille Kirk, Lucy McIlvar, Isla Murray, all P6, and Zak Bancroft, P7.
Page last updated: 27 September 2018