Summer Holiday Hubs Hailed a Success
Over 3000 lunches were served up to Inverclyde families alongside arts and crafts, reading, songs, games and family cooking over the school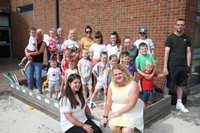 summer holidays.
Inverclyde Council nurseries, primary schools and community centres were used to provide Family Holiday Hubs offering a range of learning activities alongside a free lunch.
Education & Communities Convener Councillor Jim Clocherty said: "I was delighted we were able to increase the number of clubs to include families who have children with additional support needs.
"The clubs provide a safe environment for the whole family – not just for children - allowing them quality time to play together, relax and have fun.
"They are also a great way to meet with other children and of course the free lunch is one less thing to worry about buying over what can be an expensive summer holiday."
Families were given access to the school family support workers as well as Bookbug sessions. Children were also encouraged to take part in the Inverclyde Libraries Summer reading challenge.
One parent said: "Another fantastic summer session thank you to all who put the hard work in for these events."
Another said: "This is a great opportunity to support future summer groups in different venues and give the child the opportunity to meet new friends"
One grandparent said: "It gives my grandchildren the chance to participate in activities that are free, close to home and that they enjoy. The free lunch is an added bonus as is my opportunity to chat to other parents, grandparents and carers"
Communities Vice Convener Councillor Natasha Murphy said: "This has been another hugely successful year for the holiday hubs. Hundreds of local families have been able to spend quality time together.
"There is the additional benefit of parents becoming more aware of what their children are learning and how they can carry on those lessons in the home."
The holiday hubs were provided from Rainbow Family Centre, Newark Primary School, St John's Primary School, Broomhill Community Gardens, Branchton Community Centre, Aileymill Primary School, Bluebird Family Centre, Blairmore Nursery School and Kings Oak Primary School.