Minister on building standards fact finding mission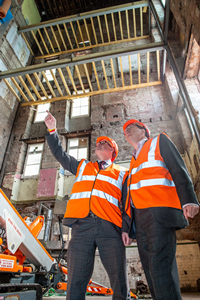 Kevin Stewart MSP, Minister for Local Government, Housing & Planning visited two construction sites in Inverclyde.
Mr Stewart is visiting in his capacity as Minister responsible for building regulations in Scotland. Joined by Inverclyde Council's Deputy Leader, Councillor Jim Clocherty, he explored how building owners or clients, design teams and contractors ensure that construction projects deliver on quality and comply with building regulations.
The visits follow on from the Scottish Government's reviews of fire safety and building standards compliance and enforcement, launched after the Grenfell Tower tragedy and the wall collapse at Oxgangs Primary School in Edinburgh.
The reviews generated a series of expert enquiries and reports into fire safety and how the building standards system operates in Scotland. The Building Standards Futures Board, which is chaired by Inverclyde Council's Chief Executive Aubrey Fawcett, was subsequently established to oversee the implementation of their recommendations.
The new Greenock Health Centre was the first stop on the itinerary. The £21m facility is being built at Dempster Street and is due to open in 2020.
The next stop was St Mary's Primary School. The school, originally built in 1910, is currently undergoing a £6million refurbishment. The interior of the building is being modernised and a new gym/assembly hall extension is being built. Fire safety measures are a major part of the project and include the installation of sprinklers and changes to the building's layout to make it easier to escape in case of a fire.
The Building Standards Futures Board contains representatives from the construction industry and professional bodies. The board's main activities include: compliance, verifier (building standards officers) workforce strategy, certification and digital transformation.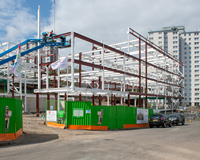 Scottish Government Housing Minister Kevin Stewart said: "Today, I have seen how collaboration between the Council, building owners, construction and design teams is key to achieving compliance with buildings standards. These developments are testament to that approach.
"The Scottish Government published updated building standards last month that will ensure projects are safe and fit for purpose – as well as being great places to live, work and study.
"We will continue to work closely with our stakeholders to ensure Scotland's buildings meet the highest safety standards."
Councillor Jim Clocherty, Inverclyde Council's Depute Leader and Education Convener, said, "Building standards are not red tape. They ensure that the structures we live in, work in, study in and relax in are safe. There can be no short cuts when it comes to safety. Grenfell Tower is a stark reminder of that fact. This is why it is so important that our building standards regime is fit for purpose; that construction firms comply with Building Standards and that where there isn't compliance, there is strong and effective enforcement."
Seventy two people died when fire broke out at Grenfell Tower on 14 June 2017, making it the worst residential fire since World War II. The fire's rapid spread has been attributed to the building's external cladding. The building also lacked a centrally-activated fire alarm and had only a single central staircase.
In January 2016 a wall collapsed at Oxgangs Primary School dropping nine tonnes of rubble into the school grounds. The collapse was caused by defective masonry construction which was missed due to a lack of proper scrutiny when the school was being built. Subsequent investigations also discovered missing or inadequately installed fire-stopping materials.