Twinverclyde hits the hundred for the new school year
Monday 19 August 2019
Teachers in Inverclyde primary schools are in for a tough time this term with 16 sets of twins starting their first day of school.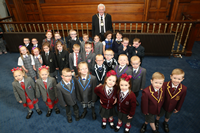 The new intake means Inverclyde has made its century with 100 sets of twins (200 children) between primary one and seven.
Inverclyde is increasingly a twins hotspot with the incidence of multiple births in 2014 (the year the majority of this year's new starts were born) being 47% higher than the Scottish average.
Provost Martin Brennan said, "I am constantly surprised at the high number of twins we have heading for primary school every year. It often runs into double-figures and this year is no exception.

"As a former teacher, I am particularly pleased to be able to welcome them as they prepare to join their new classmates in their new schools. And 'new' is very much the operative word. Every school in Inverclyde has been, or is being, totally rebuilt or refurbished as part of the council's impressive £270 million investment in its School Estate.
"I am sure all our new starts will have a huge amount of fun over the coming years in the excellent education environment that is on offer in Inverclyde."
Councillor Jim Clocherty, Convener of Inverclyde Council's Education & Communities Committee, said, "The twins who start school on Monday will be joining hundreds of other five year olds in an Education Service that is going from strength to strength.
"We are recognised leaders in terms of closing the attainment gap between poorer children and their better off classmates. And while sitting formal exams are a long way off for these children we're confident that they have a rosy future ahead of them.
"This year Inverclyde pupils have achieved their highest ever level of S6 results and more S5 pupils than ever before achieved five As in their Highers. The number of students gaining five A Higher grades was also the most ever, with 30 students getting straight As.
"These results are the reward for a lot of hard work by pupils, their parents and carers and council staff in our schools over several years. They are the tangible evidence of our determination to give every single child and young person the best possible start we can."
Page last updated: 19 August 2019