Inverclyde becomes first UK council to act to protect civilians from bombing
Monday 25 February 2019
Inverclyde Council has become the first council in the UK to back the campaign by international charity, Humanity & Inclusion, to protect civilians living in areas where bombing is a part of daily life.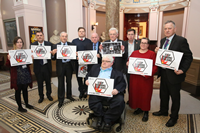 A request to consider support for the 'Stop Bombing Civilians' campaign was brought forward by Councillor Jim MacLeod and approved by Inverclyde Council.
Inverclyde Councillor, Jim MacLeod, said, "Using explosive weapons not only kills and injures civilians but also has appalling long-term effects on the society and places where people live. People are forced out of their homes; they lose their livelihoods; lose their access to education and health services; face food shortages and the destruction of roads, water, gas and electricity supplies. All States, including the UK, have a responsibility to ensure they are doing everything they can to protect civilians."
Inverclyde's Provost, Councillor Martin Brennan, said, "Increasingly the way civilians are viewed during wartime is changing. In the past civilians were seen as unfortunate bystanders or collateral damage. Now, it seems that civilians are targeted quite deliberately. When explosive weapons are used in populated areas 92% of all victims are civilians.
"Inverclyde Council believes it is time that civilians were protected from the indiscriminate use of explosive weapons. As Provost, I am proud that Inverclyde Council is the first local authority in the UK to back Humanity & Inclusion's 'Stop Bombing Civilians' campaign."
Thousands of people in Scotland have signed a petition supporting the campaign which seeks to put pressure on MPs in the UK and on governments worldwide to do more to protect civilians particularly from the use of explosive weapons in populated areas. The campaign calls on governments to publicly commit to ending the use of heavy bombardments in populated areas, and to recognise the suffering of civilians.
The number of civilians killed or injured in bombings has almost doubled over the past seven years and nearly 32,000 civilians were killed or injured in 2017. Nearly half of the victims were killed or injured by air-strikes.
Mosul in Iraq is just one example of a city that has faced heavy bombardments in recent years. There were 1,717 airstrikes and a further 2,867 other incidents involving explosive weapons during the nine months of fighting in 2016 and 2017. Amputations, fractures and spinal cord injury are amongst the most common injuries seen by Humanity & Inclusion's rehabilitation teams in Mosul and children make up one third of all the people injured by explosive weapons they see every day.
Children like Nada, 11 who lived in the part of Mosul that saw the heaviest bombings. On the night a missile hit her home there were so many injured people at the hospital that it took hours before she was seen. If she had been seen sooner her leg may not have needed to be amputated.
"Nada, her brothers and sisters and my husband were at home that day," says Nada's mum, Hala. "We lived in the west part of Mosul worst affected by the fighting. A rocket fell on our house just as the sun was setting. My children and husband were seriously injured. Our neighbours rushed them to hospital. My son and one of my daughters died on the way. After they arrived at the hospital, my husband Adel and our other children had to wait for hours before being treated. By the time the doctors saw them, it was already too late: Adel and Nada both had to have amputations."
Page last updated: 25 February 2019