Council issues scam warning about fake Community Alarm Service emails
Wednesday 30 January 2019
Older people in Inverclyde are being warned to watch out for scam emails and phishing phone calls trying to con them out of their cash.
The emails claim to be from Inverclyde Council's Accounts Department and claim to have a bill from the Community Alarm Service attached.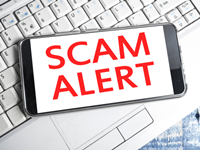 They are signed by 'Stephen Eardley.' While Mr Eardley is a genuine member of staff, he does not work for the Community Alarm Service and is in no way associated with the scam emails.
The emails also threaten that if the bill isn't paid then the community alarm will be cut off. The fake caller tries to get the potential victim to reveal their debit or credit card details.
The Community Alarm Service is run by the Inverclyde Health and Social Care Partnership (HSCP). The HSCP is sending a letter to all the people who use the Community Alarm Service warning them about the scam emails and phone calls.
People, who have received the emails, have been told to click on a link to download their bill. It's suspected that clicking on the link will download malware or ransomware onto the computer. Malware allows the scammer to obtain sensitive data about bank accounts for example. Ransomware locks the computer or deletes files if the owner doesn't pay the scammer a ransom.
So far two local residents have contacted the council one after receiving a suspicious email the other after receiving a phone call. The scam has been reported to Police Scotland.
Councillor Michael McCormick, Convener of Inverclyde Council's Environmental & Regeneration Committee, said, ""Neither Inverclyde Council nor the HSCP will ever ask for your personal or bank account details over the phone or in an email. These emails and phone calls are not from Inverclyde Council. The HSCP does not send out bills by email. Currently the Community Alarm Service is sending out paper bills by post. These are individually addressed with the client's name. Anyone who is concerned about an email or letter that says it's from the council should contact us right away.
"Some scams are very sophisticated and others are easy to spot. Scam emails often contain poor grammar or bad spelling and they try to rush you into acting. The key thing is never, ever click on a link or download an attachment in an email that has unexpectedly dropped into your inbox. This is how scammers smuggle viruses onto your computer."
Anyone who has received a scam letter, email or phone call should contact Trading Standards at Inverclyde Council.
Page last updated: 30 January 2019