60 kids learn to be engineers with Meccano style bridge-building kit
Monday 24 June 2019
Sixty P4 and P4/5 children from St John's Primary School in Port Glasgow are being let loose on a giant, Meccano style bridge building kit to teach them about site safety, team working and engineering.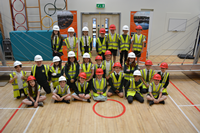 The Bridges to School kit has been provided by the Institution of Civil Engineers under its remit to inspire young people and get them interested in a career in engineering.
Bridges to Schools is a hands-on activity which gives pupils the chance to build a 13m long, cable stayed bridge. Once assembled, the pupils can walk across the bridge to test its strength.
The activity has been organised with help from staff from George Leslie Ltd, the company Inverclyde Council has employed to widen the nearby Chapelton Bridge.
Mark Coyle, Head Teacher at St John's Primary School, said, "We thought this would provide a fantastic learning opportunity which also involved the children in the world of work. It is especially relevant given the real-life example of the Chapelton Bridge widened project which is going on next to the school.
"It's also ideal for developing the children's team working, problem solving and social skills while covering STEM (Science, Technology, Engineering and Mathematics) outcomes. This kind of fun, practical activity also helps to break down the gender stereotypes often associated with civil engineering."
Councillor Jim Clocherty, Convener of Inverclyde Council's Education & Communities Committee, said, "James Watt, one of the best known engineers in the world, was born in Inverclyde. This year we are marking the 200th anniversary of his death.
"This kind of activity shows children what is possible and introduces them to new concepts in a practical and accessible way. It inspires them to be the engineers of the future and shows what can be achieved by working together. Who knows, St John's may produce the next James Watt."
John McNaught, Managing Director, George Leslie Ltd, said, "George Leslie Ltd (GL) has been an enthusiastic supporters of the Institution of Civil Engineers' Bridges to Schools educational project for many years through providing storage and maintenance for the bridge as well as transporting it to and from school locations throughout the length and breadth of Scotland. As main contractors on the Chapelton Bridge Widening Works in Port Glasgow, GL is particularly pleased to run the Bridges to Schools event in conjunction with the Inverclyde Council project team at the nearby St John's Primary School.
"The event provides an ideal opportunity to interest the youngsters in what a future career in civil engineering can offer and also raises awareness of the risks around when construction sites are working nearby and plays an important part in GL's continuing commitment to making a positive impact within the communities wherever we work."
The £650,000 scheme to widen Chapelton Bridge is designed to improve road safety and cut congestion by removing a major bottleneck at Glen Avenue in Port Glasgow.
Chapelton Bridge is the main pedestrian route for pupils going to and from St John's Primary and is also an important bus route.
The single lane bridge is being widened to accommodate two lanes of traffic and will also have wider pavements for pedestrians. The work is being funded by the Strathclyde Partnership for Transport.
Page last updated: 25 June 2019