International day of yoga
Monday 17 June 2019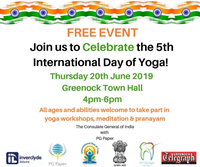 International Day of Yoga is coming to Greenock.
The annual event, promoted by the Consulate General of India in Edinburgh to spread awareness of yoga around the globe, reaches Greenock Town Hall on Thursday 20 June.
The free event, open to all ages and abilities, will run from 4-6pm and will offer anyone interested in finding out more about yoga, an opportunity to take part in workshops, meditation and pranayama.
Poonam Gupta OBE, CEO of Greenock-based international paper trading company, PG Paper was instrumental in bringing the event to the coastal town.
Poonam said "I am delighted that PG Paper, in conjunction with Inverclyde Leisure, and with the support of the Greenock Telegraph and Inverclyde Council has been able to put on this free event in Greenock Town Hall, as part of the week-long programme organised by the Indian Consulate."
She added: "Last year, I attended the event in the Emirates Arena in Glasgow and the room was full to overflowing with people wanting to give yoga a try. I am so pleased that the Consulate has agreed for Greenock to be part of the week-long programme."
Andrew Hetherington of Inverclyde Leisure commented: "Yoga has a very positive impact on a person's physical and mental wellbeing, and Inverclyde Leisure is delighted to get behind the event, and to encourage as many of our members – and non-members - to get along to the town hall and take part.
Jim Clocherty, Inverclyde Council's Depute Leader and Convenor of Education and Communities added,
"Inverclyde is a vibrant and diverse place to live and work, and we are pleased to support Poonam and PG Paper with this positive community-focused initiative."
About the free event on Thursday 20 June 2019:
The free drop-in event will run from 4pm-6pm on Thursday 20 June. It is open to all ages and all abilities.
Local yoga teachers will join Glasgow-based yoga teacher Manjulika Singh at the event.
No specialist equipment, participants should wear comfortable clothing, and bring along a mat or towel, if they wish.
Events are happening across Scotland, including Glasgow, Edinburgh, Aberdeen, Stirling, Perth and Inverness.
Yoga is a Sanskrit word which symbolises the union of body and soul, nature and consciousness and divine energy of the individual with the universe.
Page last updated: 17 June 2019