School meals win healthy eating award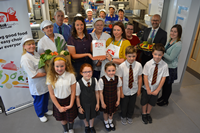 Delicious dinners and nutritious nosh are on the menu for over 3,500 primary school kids in Inverclyde after the council's school meals service won a Bronze Food for Life Served Here Award from the Soil Association Scotland.
Sarah Duley from Food for Life Scotland presented the award to Councillor Natasha Murphy, Vice Convener of Inverclyde Council's Education & Communities Committee, and school catering staff at Ardgowan Primary School, Greenock, on Thursday 27 June.
The Food for Life Served Here award recognises councils that are serving school meals which are made from fresh ingredients, use free-range eggs and high-welfare meat and are free from genetically modified ingredients and undesirable additives.
The Food for Life Scotland programme is run by the Soil Association Scotland and aims to help school catering staff serve freshly prepared meals made from locally produced ingredients that are healthy and sustainable. The programme is funded by the Scottish Government.
Inverclyde Council is the 13th local authority in Scotland to achieve the Soil Association's prestigious Food for Life Served Here award. It now serves 3,527 Food for Life certified meals every day across its 20 certified primary schools.
Minister for Rural Affairs and the Natural Environment Mairi Gougeon said, "This award recognises a collective effort to see children enjoy more of Scotland's fantastic produce as part of their school meals. The Food for Life Scotland programme is key to helping us achieve that, as well as deliver on our shared ambition with the food and drink sector, to find new market opportunities for producers, to help sustain and grow their businesses, whilst bolstering local economies and improving our children's health.
"Food for Life is also a key part of the recently announced Good Food Futures programme, which provides a co-ordinated 'end to end' approach to the delivery of food education for children in Scotland and encouragement for young people to work in the food and drink sector.
"I look forward to seeing more local authorities across Scotland sign up to Food for Life in the near future."
Councillor Natasha Murphy said, "I would like to congratulate our staff on achieving this important milestone. In Inverclyde, one child in four lives in poverty. In some areas the figure is as high as one in three. Research has consistently highlighted the basic fact that you have to eat well to do well and we recognise the absolute importance of making sure local children receive good quality meals made from healthy ingredients. This initiative provides an important contribution towards their physical development and contributes towards closing the attainment gap between children from poorer areas and more affluent areas.
"Sourcing ingredients locally also helps to support Inverclyde firms, generate employment and protect the environment by reducing the distance goods need to be carried."
Sarah Duley, Head of Food at Soil Association Scotland, said: "Food for Life Scotland works in partnership with local authorities to put fresh, Scottish, seasonal food on school dinner plates across the country.
"This Food for Life Served Here award is a testament to the hard work of everyone involved, from the Councillors to the catering staff. We're delighted to recognise Inverclyde Council's commitment to serving fresh, local produce in their school meals, and we look forward to working with even more of Scotland's local authorities in the future."
Councillor Elizabeth Robertson, Inverclyde Healthy Lifestyle Champion said, "As the Healthy Lifestyle Champion for the Council, I could not be more proud of our catering and other school staff who, alongside our pupils, have worked so hard to achieve this Food for Life bronze award. In achieving this, our schools have enhanced the amount of local produce that is served to our young people in the dinner hall, they have enhanced the use of seasonal produce, and have involved pupils more in the decision making of what's on offer for lunch at school and understanding of how it gets to their plate.
"Reconnecting each of us with our food and where it comes from is really important. More and more we are becoming aware of issues around animal welfare, the over-use of plastics in food packaging, how much of our food we grow ourselves as well as the journey that produce makes in order to get to our plate. All of these considerations are included in the criteria for the award that our schools have just received.
"Yet again, it's wonderful to see our young people leading the way for the rest of our community in taking action – making even small behaviour changes – to improve our relationship with food.
"The Soil Association staff were so complimentary of the time they've spent with everyone in reaching this achievement, and I know they're looking forward to engaging further if we go to the Silver and Gold levels. I guess we've just had our "starter", and I hope we can now move on to achieve our Silver "main course" and the sweet "dessert" of Gold."
Linda Knox, Inverclyde Council's Hungry for Success Coordinator, shared her experience of how the local authority gained its Bronze award as part of a question and answer session in Glasgow on 25 June. The session was part of the Fresh, Local & Sustainable masterclass organised by the Soil Association Scotland in partnership with the Society of Local Authority Chief Executives (SOLACE).
Speaking at the event, Linda said, ""Over the last year we have worked incredibly hard to raise the standard of school meals in Inverclyde and use only the best quality meats and seasonal produce. Most of our meals are homemade and prepared fresh in the school kitchen every day. The Food for Life team has given us lots of support throughout the process of achieving our bronze award and we are very grateful to them."