Great get together in June 2019
Wednesday 29 May 2019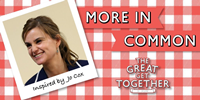 Community groups are being urged to 'get together' as part of a celebration of the life of Jo Cox MP.
For, Inverclyde Council is supporting the 'Great Get Together' on 21 – 23 June 2019 and is offering funding to local groups and residents hosting events that weekend.
The initiative, inspired by the circumstances surrounding the murder of Jo Cox MP, aims to encourage community cohesion through the organisation of community-led events.
The council is offering funding up to a maximum of £350 to community groups and individuals planning events as part of the great get together.
Inverclyde Council Leader, Councillor Stephen McCabe, said: "The death of Jo Cox was an appalling tragedy and one that shocked the country. The great get together is a wholly positive initiative aimed at bringing people together. It is a very good way of remembering Jo and helping to build bridges. Supporting local events encourages people to do simple things like spending time with friends and neighbours or encouraging young people to play together.
"I would encourage Inverclyde groups and clubs holding events over that weekend to join the great get together and to get in touch with the council to find out if we can support you either with a little bit of funding or in helping to promote your event."
Kim Leadbeater, Jo's sister, said: "It's fantastic to see Inverclyde supporting The Great Get Together in this way. All across Scotland people have responded enthusiastically by organising events large and small so I hope this will encourage even more people to get planning something.
"It can just be a small event in your street or back garden or something bigger bringing in people from across the community.
"From talking to many of the brilliant people who are busy organising events already I know that the whole country is sick and tired of division and keen to get back together. So this year across the weekend of 21st-23rd June, the message will be 'Let's Get Back Together'. This weekend will be the opportunity to show that we won't allow our communities to be divided and that the values Jo lived by are still the ones that represent Britain at its best."
Residents and groups holding an event as part of the 'great get together' should email events@inverclyde.gov.uk to find out about council support.
More information on the great get together is available from www.greatgettogether.org
Page last updated: 29 May 2019