Traffic disruption expected
Friday 31 May 2019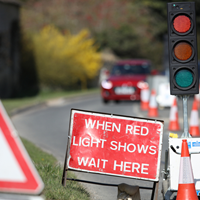 Inverclyde Council has called on the national transport agency responsible for the trunk road network across Scotland to get its act together.
The move comes after it was revealed that work on the A78 trunk road at Inverkip Road is going to be set at one way traffic lights just weeks after the agency agreed not to do this.
It is understood that the work has been agreed by Transport Scotland to allow Scottish power to carry out work at the Barr's Cottage area of the A78.
Inverclyde Council Leader, Councillor Stephen McCabe, said today: "This is an incredible situation where a national agency can just decide to unilaterally change its mind and allow this to happen without any consideration for the effect this has on the travelling public. We fully appreciate that any roadworks or construction project, can take unexpected turns and issues arise that you have to deal with. But, knowing that this work has an impact on work going on in other parts of the network, doing a complete u-turn on a previous agreement and leaving little to no time for other agencies to respond or influence that work is cavalier at best and downright incompetent at worst.
"There is no doubt that the travelling public will be inconvenienced by this and we are all put into a situation where there isn't a great deal of time to get the word out to communities affected by this."
Inverclyde Council, earlier this month, delayed essential maintenance work to Cardwell Road, Gourock because one way traffic lights were unexpectedly put in place on the A78 Inverkip Road at Barr's Cottage.
After delaying the work, council roads officers negotiated with the national agency and their maintenance agency and only started the work in Gourock on the clear understanding that traffic on the A78 would flow both ways.
Councillor McCabe explained: "Major work on the trunk road network has an impact across the Inverclyde roads network. Transport Scotland need to get its act together and make sure that situations like this do not arise again and that better planning gets put in place as a matter of urgency. This cannot be allowed to happen again. For this work Transport Scotland need to make sure that it is completed as quickly as possible to minimise the unconvince to the travelling public."
It is understood that the work on the A78 at Inverkip Road is expected to begin this weekend and last between 10 days and two weeks. Road users must leave plenty of room for journeys during this period as there will be significant disruption.
More information on work on the trunk road network is available from Transport Scotland at https://www.transport.gov.scot
Page last updated: 31 May 2019