Inverclyde on track for 1140 nursery hours expansion
Friday 17 July 2020
INVERCLYDE remains on track to meet the new 1140 nursery hours target next month.
The council is continuing to implement the Scottish Government policy even though the original August 2020 deadline for local authorities has now been lifted because of the coronavirus pandemic.
Under the scheme, free early years provision will almost double from 600 to 1140 hours a year.
Councillor Jim Clocherty, Inverclyde Council's Convener of Education & Communities, said: "It's testament to our education team that they're still able to deliver this massive change to early learning provision amidst the challenges of the coronavirus pandemic which has affected all walks of life.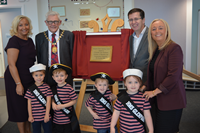 "The council has been well prepared for the changes with a lot of hard work on the go behind the scenes and huge investment in schools and existing nurseries to create extra space to meet demand and the creation of new facilities, such as the state-of-the-art Glenpark Early Learning Centre in Greenock.
"Increased nursery hours will be a big help to many families across Inverclyde and I'm proud that we've been able to meet the original August 2020 deadline."
The additional hours for children and families will be offered in council nurseries, funded nursery settings and funded childminders.
Placements do remain subject to public health restrictions for early learning and childcare, such as physical distancing for staff, small protected cohorts for children and blended placements.
For more information about early learning and childcare in Inverclyde, visit https://www.inverclyde.gov.uk/education-and-learning/early-years.
Page last updated: 17 July 2020