Praise for outgoing Inverclyde police chief
INVERCLYDE'S outgoing police chief has been praised after it was announced she is leaving the post after two-and-a-half years.
Councillor Tommy McVey, who chairs the council's local police and fire scrutiny committee, thanked Chief Inspector Debbie Reilly for her work since she took on the role in August 2018.
Ch Insp Reilly will leave Greenock Police Station at the end of this month to take up a promotion elsewhere in the police force.
Speaking following an announcement at today's police and fire scrutiny committee, Councillor McVey said: "Debbie cares passionately about Inverclyde and her departure as area commander will be a big loss to the community.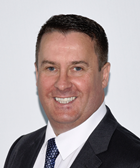 "Along with her hardworking team, they have made significant progress over the last two-and-a-half years tackling crime and addressing concerns but also working extremely positively with various community groups and partner agencies, including the council.
"It's been a pleasure working with Debbie, whose straight-talking approach and warm personality I admire.
"On behalf of the council, I'd like to thank her for all that she's done for Inverclyde and wish her all the very best in her promotion."
Ch Inspector Reilly is from Greenock and still lives locally.
She was previously a roads policing sergeant prior to becoming area commander.
Her successor will be Chief Inspector Paul Cameron.
Councillor Jim Clocherty, the council's convener of education and communities, said: "Debbie has made such a positive impact here in Inverclyde that it's no surprise she has earned a promotion and being redeployed elsewhere within Police Scotland.
"Our loss is most certainly their gain. Debbie leaves with all our best wishes and I'd like to welcome our new chief inspector, Paul Cameron, to Inverclyde and I look forward to working with him and continuing the productive partnership working between the council and the police."