Flu jags update
FLU jabs are on their way to Inverclyde residents who have not yet received them.
The council's health and social care committee have sought to reassure those who have not yet been invited for their immunisation appointment that they will be contacted soon.
Jabs are currently being administered differently this year and in greater numbers than ever before due to the coronavirus pandemic.
Most people will be invited to either Greenock Town Hall, Port Glasgow Town Hall, pictured, Gourock's Gamble Halls or Kilmacolm Community Centre for their jag to allow for two-metre social-distancing.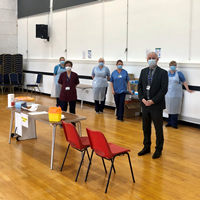 Among those who are eligible for a free jab are people aged over 65 and anyone who has not yet been contacted about their appointment will receive a letter from the health service by the end of October.
Councillor Robert Moran, Inverclyde Council's convener of health and social care, said: "The immunisation programme is operating well here in Inverclyde.
"I understand the angst among some residents who have not yet received a letter about where and when they will receive their flu jab.
"I'd like to reassure them that they will be contacted soon and not to worry.
"Everyone who is entitled to a jab will get one. It's just taking a little bit longer this year due to the change in the way jabs are being delivered and the increased number of people who are now eligible for one."
The flu jab is routinely available on the NHS to: adults who are 65 and over; people with certain medical conditions; pregnant women; children aged two and three years old on 31 August 2020; children in primary school; unpaid and young carers; those in the same home as people previously shielding from coronavirus; and frontline health or social care workers.
As many as 30,000 people in Inverclyde could be vaccinated this year as the annual immunisation takes on greater significance in light of the coronavirus pandemic.
GP practices have begun vaccinating those under 65 in 'at risk' groups and they will contact patients directly with details on how to book or to offer an appointment.
Whilst most practices will be using their own building to administer the flu jab, some will invite people to a community venue.
Carers and those who live with someone in the shielding group will be asked to attend local pharmacies.
Community nurses will still carry out home visits to those who are housebound.
A second phase is planned to begin in December and will include those aged 55 to 64 who would not usually be eligible.
Anyone who is unsure about whether they are eligible for a flu vaccination can check online at www.nhsinform.scot or phone 0800 22 44 88 between 8am and 10pm seven days a week.