International Workers' Memorial Day 2021
PEOPLE who died through work have been remembered at a solemn commemoration in Greenock to mark International Workers' Memorial Day 2021.
Provost Martin Brennan laid a wreath at the 'Men of the Clyde' sculpture in Clyde Square on behalf of Inverclyde.
The start of the coronavirus pandemic and first lockdown last year meant the annual memorial event had to be cancelled but the recent easing of restrictions meant a small scale commemoration could take place to honour those who have died in the line of duty.
Council and health and social care (HSCP) staff were also asked to join with people around the world in observing a minute's silence at 11am.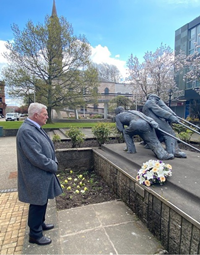 The theme of International Workers' Memorial Day 2021 is 'health and safety is a fundamental workers' right'.
In a message to staff, Inverclyde Council chief executive, Aubrey Fawcett, said: "Today marks International Workers' Memorial Day.
"In normal times this would be marked solemnly by the council and a range of partners including our trade union colleagues. The Covid-19 restrictions limit attendance and the provost will lay a wreath on behalf of the community in Clyde Square.
"The theme this year is 'health and safety is a fundamental workers' right'.
"Workers' Memorial Day is important every year but perhaps the past year may have brought it into sharper focus for many especially since, as a council, we have lost colleagues to Covid-19 and our thoughts are with their families, friends and work colleagues.
"It is a chance to remember our colleagues and to join together to show our joint commitment to protecting ourselves and each other.
"Some of the many areas Inverclyde Council have been involved in include:
Ensuring essential services such as refuse collection are being provided
Making sure children are being educated in safe environments in schools
Ensuring home learning is a positive experience
Coordinating help for those in need
Ensuring those who need care at home continue to get the service they need
Supporting care through the NHS
Ensuring commercial premises provide save spaces for customers as we come out of lockdown
Provision of registration and burial/cremation services
"Every service area of the council has contributed to the pandemic response and as such many of our employees have been at risk in similar ways to our colleagues in the NHS, retail, service industries etc.
"A number of our staff are still suffering from the effect of long covid and the council will continue to support them in their recovery.
"Please take a minute at 11am today to remember those who have died at work, here in Inverclyde and further afield."