Reopening of libraries, museums and leisure
LIBRARIES and leisure facilities across Inverclyde as well as Greenock's Watt Institution are all reopening next week following the easing of national coronavirus restrictions.
All local libraries will welcome back visitors on Monday (26 April) while the Watt Library, based within the Watt Institution, will open its doors on Wednesday (28 April) for the first time in more than a year.
Port Glasgow Library remains closed because of ongoing refurbishment work but services will still be offered from a 'pop-up' facility at nearby 7½ John Wood Street in the town centre.
Gyms and swimming pools will also reopen on Monday, including at the Waterfront Leisure Complex in Greenock where gym-goers will be welcomed from one minute past midnight when the current restrictions are officially lifted.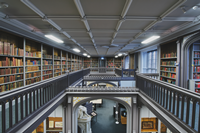 Gourock Pool, which traditionally opens for the outdoor season on the first Friday in May each year, will welcome back swimmers on Friday 7 May.
The Watt Institution, incorporating the McLean Museum and Art Gallery, Watt Library and Watt Hall, will welcome visitors once again from Wednesday and they will be treated to a host of new exhibits and exhibitions, including recently-donated artefacts from the historic Sir Gabriel Wood's Mariners' Home in Greenock.
The museum and art gallery will be open initially from 10am-2pm Wednesdays-Saturdays.
The Watt Library, which has been closed since March last year and throughout the pandemic in line with Covid-19 safety rules, will also be reopening but visits must be booked in advance by emailing wattinstitution@inverclyde.gov.uk or phoning 01475 715628.
Also resuming on Monday will be non-essential retail businesses and hospitality premises, while travel will also be permitted throughout the UK.
An Inverclyde Council spokesperson said: "We're really looking forward to seeing people back using our libraries and the Watt Institution and our many great gyms and swimming pools run by our partners at Inverclyde Leisure.
"Local businesses will also be eager to see customers once again and we encourage people to 'shop local' where possible to support the local economy and its recovery from the pandemic.
"Everyone is understandably desperate to get back out and about enjoying the things we all took for granted before the coronavirus outbreak and we look forward to people – residents and visitors – being able to discover Inverclyde once again.
"But we would urge everyone to also continue following the rules, listen to instructions from staff and, above all else, stay safe to protect themselves, to protect each other and to protect Inverclyde."
Also reopening by Monday are the public toilets at Hunter's Place and Kilblain Street, both in Greenock, and Shore Street in Gourock.
Public conveniences are open from 8am-9pm except for Hunter's Place and Kilblain Street, which close at 5pm.
The loos at Lunderston Bay and Greenock Cut Centre will also be fully open from Monday.
For more information about the Watt Institution, Inverclyde Libraries and public conveniences, visit www.inverclyde.gov.uk and find out about local leisure facilities, including gyms and swimming pools, at www.inverclydeleisure.com.