Customer service centre reopening
INVERCLYDE Council's customer service centre in Greenock will fully reopen next week for the first time in more than a year following the easing of Covid-19 restrictions.
Staff at the facility, within the Municipal Buildings in Clyde Square, will welcome people back once again from Wednesday 9 June 2021.
It comes after the government announced Inverclyde will move into Level 1 of the national coronavirus tiered restrictions system.
People are being advised that they will no longer be able to pay for bills or services at the customer service centre, including by cash, card or cheque, and should instead use one of four outlets in the Greenock Town Centre area such as the Post Office or premises with PayPoint facilities or choose another alternative payment method.
The centre has been operating on a restricted, appointment-only basis in recent times due to the pandemic.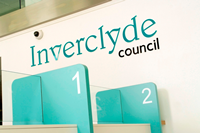 Although booking an appointment is still encouraged, people will be able to visit between 8.45am-4.30pm Monday-Thursday and from 8.45am-3.30pm on Fridays, and Covid-19 safety rules must be followed.
The customer service centre is where residents can find out about the wide range of council services, complete birth, marriage and death registrations, and enquire about things like council tax.
Councillor Stephen McCabe, leader of Inverclyde Council, said: "The customer service centre is an important resource for many people to get help and advice about council services.
"While there are still some covid-related restrictions in place, the reopening of the centre is another welcome step forward towards normality.
"The easing of restrictions and Inverclyde moving to Level 1 is thanks to the efforts of local people in continuing to follow the rules."
While the centre itself will reopen from Monday, the payment facility, which has been closed throughout the pandemic, will not re-open.
People are now being advised to use alternative payment methods for settling things like council tax bills.
They can settle their bill by: direct debit; online payments; presenting a barcoded bill at a Post Office or shops with a PayPoint facility; requesting and using a payment card; by post; or by telephone.
Councillor McCabe said: "Naturally, there will be some who are disappointed that payments can no longer be made at the customer service centre but there are still cash and card payment facilities in Greenock Town Centre.
"There are also lots of other alternative payment options – many of which have already been utilised over the last 15 months due to the pandemic – and staff are on hand to help people access a different payment method."
Despite the disruption caused by Covid-19 and the financial challenges people have faced, a high council tax collection level has been maintained with 94.4 per cent of council tax billed during 2020/21 collected compared with 95.4 per cent in 2019/20.
If anyone is having problems with council tax, please visit www.inverclyde.gov.uk/counciltax or call 01475 712369 for help and advice.
For more information about ways to pay for bills and services, visit www.inverclyde.gov.uk/pay-it-online or call the customer service centre on 01475 717171 for further assistance.