World Autism Awareness Week 2021
VIRTUAL events are planned and local landmarks will be lit up to mark World Autism Awareness Week in Inverclyde.
The annual drive in support of autistic people runs from Monday (29 March) to Sunday 4 April and is being backed by the council and Inverclyde Health and Social Care Partnership (HSCP).
According to the charity, the National Autistic Society, one in 100 children are autistic.
The world awareness week will be marked locally with messages on social media and a host of virtual events, including autism-friendly library activities and 'wear blue' day on Thursday 1 April with people throughout Inverclyde being encouraged to don cobalt-coloured clothes to mark World Autism Day.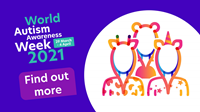 Greenock's iconic Custom House building and the Endeavour statue will also be lit up blue throughout the week in a show of support and schools are planning celebrations, including staff and pupils at Craigmarloch in Port Glasgow.
Councillor Robert Moran, Inverclyde's health and social care convener, said: "The coronavirus pandemic has been particularly tough for many autistic people and their families.
"Disruption to schools and services can be particularly distressing to some of our children and young people.
"World Autism Awareness Week is an opportunity to do just, raise awareness of autism, but also to celebrate the many wonderful autism-friendly groups and initiatives we have here in Inverclyde and for everyone to look forward to getting back to some form of normality in the near future.
"There's a packed programme of events organised throughout next week by the council/HSCP and many of our excellent third sector partners that I hope people will enjoy."
Among the events taking place online are:
Au-some Facebook Group www.facebook.com/groups/ausomebookbug:
Monday: Makaton Monday with Myra – Myra demonstrates a new Makaton sign
Wednesday 1.30pm: Au-Some Bookbug session.
Libraries Facebook and Twitter pages (www.facebook.com/InverclydeLibraries and Twitter @InverclydeLibs):
Tuesday 1pm: Au-some Bookbug Techy Tea Break – A pre-recorded video which guides through an Au-some Bookbug session, Makaton signing and other resources, including how to join the group.
Throughout the week there will be promotion of autism-related eBooks and eAudiobooks available from the BorrowBox service for families, children, young people and adults.
p-AU-sitive podcast on the Inverclyde Council YouTube channel (www.youtube.com/inverclydecouncil)
For more information visit www.autism.org.uk.