Remembrance Sunday 2021
SERVICES will take place in towns and villages across Inverclyde on Remembrance Sunday.
Details of this year's commemorations on 14 November have been announced by Inverclyde Council.
There will be traditional services in Greenock, Port Glasgow, Gourock, Kilmacolm, Inverkip and Wemyss Bay.
Many were cancelled or significantly scaled back last year due to coronavirus restrictions.
While there will still be some differences to previous years due to a variety of factors, it is a return to a much more normal Remembrance Sunday programme.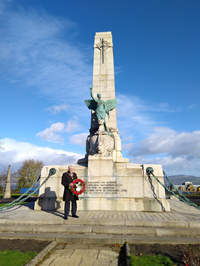 Provost Martin Brennan said: "I know many people across Inverclyde will be glad for the return of Remembrance services we're more accustomed to following the disruption last year.
"While the sacrifices of those who have fought and continue to fight for our freedoms shall not and will not be forgotten, the opportunity to gather safely in public is an important way for us to honour collectively and individually those who paid the ultimate price.
"Another of the ways in which we remember is by wearing the poppy and this year's commemorations coincide with the centenary of the flower being used as not just a symbol of Remembrance but also of hope for a peaceful future and I, like so many, will be wearing mines to reflect that."
Following the service in Greenock, Lyle Hill will be the focus with a service at approximately 1.45pm to commemorate the personnel of the Free French Navy who were stationed in Greenock during the Second World War.
The Free French memorial on Lyle Hill is currently illuminated in red to support Armed Forces charity Poppyscotland.
Anyone wishing to attend any of the outdoor services are asked to leave space around the Cenotaph and respect personal safety and space of those around them by maintaining a distance from others and wear a face covering if they feel appropriate to do so.
Face coverings must be worn for services taking place indoors.

All 2021 Services Sunday 14 November 2021
Kilmacolm, Old Kirk
1045 church service then Cenotaph at approx. 1200. No parade to Cenotaph.
Port Glasgow, Port Glasgow New Parish Church
1045 church service then Cenotaph at 1230. Parade from Comet to Cenotaph.
Greenock, Wellpark Mid Kirk
1045 church service then Wellpark Cenotaph at approx. 1230. Parade from Shaw Place to Wellpark at 1215.
Gourock, Old Gourock and Ashton Church
1045 church service then Gourock Cenotaph at approx. 1200. Parade from church to Cenotaph.
Inverkip, Inverkip Church
1045 church service then Inverkip Cenotaph approx. 1200. No parade.
Wemyss Bay, Wemyss Bay and Skelmorlie Church
1045 church service then Cenotaph at approx. 1200. No parade.