October holiday hubs registration now open
Holiday hubs are opening during the October break with fun activities on offer to keep young ones busy.
Families in Inverclyde are being encouraged to book a place on the holiday hubs which are open for children and young people aged 5-18 years. The hubs are free of charge to working families on low income and entitled to free school meals and clothing grants.
Education and Communities Convener, Councillor Jim Clocherty said: "These holiday hubs offer our children and young people a safe and fun place to be over the October holiday. There is a wide range of activities on offer including outdoor play, team building and creative arts and I would encourage every family who is entitled to use the hubs, to register before 29 September."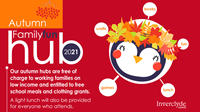 The holiday hubs will operate from Monday 11 October until Friday 15 October 2021, with sessions running from 9.00am until 4:00pm (3.30pm on Friday).
The holiday hubs will provide support for working families, allowing parents and carers to continue work during the school holiday period. Free lunch will be provided daily.
Eligible families will receive the forms from their child's school group-call system and completed forms should be submitted to Affordableholidayhubs@inverclyde.gov.uk by Wednesday 29 September 2021.
Priority will be given to working families, working lone parent families, working families where there is a disability in the family, working families with parents under the age of 25 years and families with three or working families where English is the second language. The hubs will be based in Port Glasgow and Greenock and places will be allocated according to the registered address.