Reservoir repairs starting
REPAIRS to a reservoir off the Greenock Cut will begin tomorrow and are expected to last four weeks.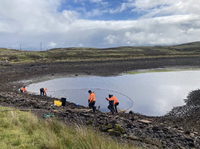 Work will begin on the watercourse, known as Reservoir 4, from Thursday 11 August 2022 to fix a faulty valve.
The issue was discovered during recent essential maintenance.
To allow for the work to take place the reservoir has been drained and fish stocks removed thanks to support from Clyde River Foundation.
A small number of trout and a large number of stickleback were collected and released into nearby Reservoir 5.
The valve replacement works are expected to last for approximately four weeks.