Free playschemes for Inverclyde children
SUMMER playschemes will be free for children in Inverclyde thanks to funding from the council to help ease the cost of living crisis for local families.
Councillors voted unanimously in favour of the proposals, which are expected to cost around £20,000, at a meeting on Thursday 30 June 2022.
The idea was proposed by Councillor Jim Clocherty and seconded by Councillor Francesca Brennan.
Councillor Clocherty said: "Times are incredibly tough for everyone as we battle with the ever-increasing cost of living and we, as a council, are doing all we can to try and mitigate that and support families.
"By fully funding playschemes to ensure young people can gain entry for free will provide some relief to parents and carers as they try to keep their children entertained during the school summer holidays and keep costs as low as possible.
"I would like to thank my fellow councillors for their unanimous support and I'm sure families will make the most of the free summer playschemes and the children and young people in attendance will have terrific fun with their friends."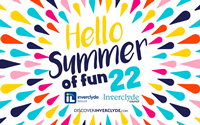 The playschemes and other Summer of Fun 22 activities follow on from the council's Meliora Festival series of events during May and June, including the Gourock Highland Games and British Pipe Band Championships.
Councillor Francesca Brennan said: "There are already many council-funded events and activities organised as part of the Summer of Fun 22 with many free to attend or subsidised, including Pictures in the Park at Battery Park this Saturday and Sunday.
"To be able to fund playschemes to make them free of charge on top of everything else that is coming up will be a real bonus to many families that are struggling with the cost of living crisis.
"Playschemes have been around for as long as I can remember and are always popular and I'm sure they will be once again this summer."
The proposals were put forward in a motion at the council meeting, which says: "Council notes the current cost of living crisis, and in light of this agrees that no charge be made for universal playschemes operated by Inverclyde Leisure or directly funded by the council (including the Play4All out of school care provision) during the school summer holidays 2022. These playschemes are:

"Newark, Kilmacolm, St Patrick's, Aileymill, Moorfoot, Inverkip and Auchmountain run by Inverclyde Leisure and this decision also includes: Youth Connections, Craigend, Branchton and Play4All (including the Play4All out of school care provision) which receive funding from the council.
"This decision only relates to universal playschemes and not pre-booked childcare places (extended playschemes) which are already offered free of charge at Aileymill, Newark, St Patrick's and Wellington.
"The anticipated cost of this to the council will be in the region of £20,000, which will be funded through the earmarked reserves allocated to the Year of the Young People Legacy Fund.
"The council delegates full authority to the corporate director of education, communities and organisational development to implement this decision."
The meeting is available to watch on the Inverclyde Council YouTube channel at www.youtube.com/inverclydecouncil.