Summer Reading Challenge set to sizzle
AN action-packed programme of events will take place throughout Inverclyde for this year's Summer Reading Challenge.
Inverclyde Council's libraries service is organising a variety of activities to celebrate the annual 'read-a-thon' to encourage young people to pick up a book during the school holidays and keep them entertained.
This year's challenge is 'Gadgeteers' and is themed around science and innovation.
It launched on Saturday 25 June 2022 and runs until 27 August and is aimed at children aged 12 and under who can sign up to take part at their local library.
The challenge encourages young people to read as many books as possible with up to six recommended and earn rewards as they chart their progress and a medal and certificate at the end when they complete the challenge.
There are also a series of free events lined up, including the BodyWorks roadshow from Glasgow Science Centre, 'Wee Storybox' storytelling sessions, 'Animal Man' visits, and silent discos, as part of the challenge.

Pupils Rylee Reay and Olivia Burke, who are in P7 at St Joseph's Primary, joined library assistant Sharon Bristow at South West Library in Greenock to help launch this year's extravaganza.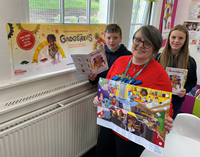 Councillor Jim Clocherty, Inverclyde Council's convener of education and communities, said: "There is always great participation in the Summer Reading Challenge and I expect young people and their families to support it in huge numbers once again this year.
"Not only does it promote reading and get more families into our libraries and enjoying the wonderful facilities we have but it also keeps our children and young people entertained and engages during the summer holidays.
"Our libraries services, working closely with partner organisations, has developed a first-class programme of events over the coming weeks and months and they, like our libraries themselves, are all free of charge, which is particularly important in the current climate with the cost of living crisis."
The Summer Reading Challenge is delivered by Inverclyde Libraries in partnership with The Reading Agency and some events are supported by the Scottish Library and Information Council (SLIC).
It is free to take part and participants can sign up at their local library.
Every child that signs up will receive a welcome pack including a map, stickers and bookmark, a discounted cinema ticket offer from the Waterfront Cinema, and each young person who completes the challenge will be entered into a prize draw to win a Lego pack.
Events are free to attend but places for some must be booked in advance via the Inverclyde Libraries Eventbrite page.
For more information check out the Inverclyde Libraries Facebook and Twitter pages and for more information about the council's libraries service visit www.inverclyde.gov.uk/libraries.
Full list of events is as follows:
Date

Time

Activity

Location

Audience

Booking Info

25/06/22

11am-12pm

Launch of Summer Reading Challenge with Gadgeteers themed performance by local storytelling group 'Wee Storybox'

Port Glasgow Library

Children and Families

Eventbrite

07/07/22

2-4pm

Animal Man

Gourock Library

Children and Families

Drop-in

11/07/22

2-3pm

Author Visit – Alex Mullarky

"Travel with author Alex Mullarky to the magical realm beneath your feet. In Alex's debut book, The Sky Beneath the Stone, Ivy must voyage into a fairy realm under the mountains to retrieve her brother, who has been transformed into a kestrel. In this session you will hear Alex read from the book, learn all about writing, make your own magical map and use it to plan your own adventure!"

Greenock Central Library

Children aged 8-12 years

Eventbrite

11th & 18/07/22

11am-12pm

Storybook STEM Workshop (See Description Above)

Port Glasgow Library

Children aged 5-8years and their families

Eventbrite

18/07/22

5pm-6pm

Silent Disco

Greenock Central

Children and Families

Drop-in

13/07/22

11am-3pm

Glasgow Science Centre On Tour

Visit the Science Centre in Inverclyde!. An amazing opportunity to get hands on the wonderful exhibits

South West Library

Children and Families

Drop-in

14/07/22

11am-3pm

Glasgow Science Centre On Tour

Visit the Science Centre in Inverclyde!. An amazing opportunity to get hands on the wonderful exhibits

Port Glasgow Library

Children and Families

Drop-in

15/07/22

11am-3pm

Glasgow Science Centre On Tour

Visit the Science Centre in Inverclyde!. An amazing opportunity to get hands on the wonderful exhibits

Greenock Central Library

Children and Families

Drop-in

20/07/22

11am-3pm

Glasgow Science Centre On Tour

Visit the Science Centre in Inverclyde!. An amazing opportunity to get hands on the wonderful exhibits

Gourock Library

Children and Families

Drop-in

21/07/22

11am-3pm

Glasgow Science Centre On Tour

Visit the Science Centre in Inverclyde!. An amazing opportunity to get hands on the wonderful exhibits

Port Glasgow Library

Children and Families

Drop-in

22/07/22

11am-3pm

Glasgow Science Centre On Tour

Visit the Science Centre in Inverclyde!. An amazing opportunity to get hands on the wonderful exhibits

Greenock Central Library

Children and Families

Drop-in

25/07 & 01/08/22

2-3pm

Storybook STEM Workshop (See Description Above)

Greenock Central Library

Children aged 5-8years and their families

Eventbrite

27/07 & 03/08/22

11am-12pm

Storybook STEM Workshop (See Description Above)

Gourock Library

Children aged 5-8 years and their families

Eventbrite

03/08/22

2-4pm

Animal Man

Kilmacolm Library

Children & Families

Drop-in

10/08/22

2-4pm

Animal Man

Greenock Central Library

Children and Families

Drop-in

10th, 11th, 12th/08/22

11am-1pm

Paul Bristow workshops. Each workshop is a standalone activity.

South West Library

Children aged 8-12 years

Eventbrite

15/08/22

5pm-6pm

Silent Disco

Greenock Central

Children and Families

Drop-in

27/08/22

Summer Reading Challenge ends

14/09/22

6pm-7pm

Summer Reading Challenge Celebration with magician Gary Dunn

Greenock Town Hall

Invitation to completers of Summer Reading Challenge and their families

Eventbrite