Registering children for Primary 1
REGISTRATION of children in Inverclyde who are due to start primary one in August 2023 opens next week.
Parents will be able to enrol their little ones for school online via the Inverclyde Council website from Monday 9 January to Friday 13 January 2023.
The P1 online registration form should be completed regardless of whether parents and carers are considering deferring their child for a year.
Once completed, the choice can then be made between denominational or non-denominational schools or Gaelic medium education.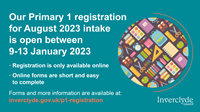 Online forms are short and easy to complete.
Councillor Jim Clocherty, Inverclyde Council's convener of education and communities, said: "Online registration is a quick and easy way to enrol children who are due to start P1 this summer.
"It will allow our education staff to begin the enrolment process and means there is one less thing to think about for busy families as they start to look ahead to their wee ones starting school in the summer.
"I encourage parents to take a few minutes over the course of next week to complete the online registration to help make the process as smooth as possible for all involved."
Parents will be notified by 30 April 2023 confirming their child's place in school and information regarding induction days will follow from the school after that date.
Any parent who does not have internet access or who requires further assistance should contact their child's early learning centre.
For more information and to access the online registration form, visit www.inverclyde.gov.uk/p1-registration or click on the link in the 'Related Links' section of this page.