Link completes first phase of Inverclyde housing development
Link Group, one of Scotland's largest housing and support organisations, has completed the first phase of its newest affordable housing development in Inverclyde.
A total of 198 properties are being built in Bunston Grove, Greenock, jointly funded by the Scottish Government and Link.
The development has also been shortlisted in the Homes for Scotland Awards 2023, in the Development of the Year – Large Category and the Scottish Home Awards 2023 Housing Regeneration Project of the Year and Large Affordable Housing Development of the Year.
The first phase provides 149 homes for social rent. The development comprises a mixture of houses, cottage flats and bungalows and seventeen homes have been designed to wheelchair accessible standards.
The development successfully regenerates a vacant and derelict site which has lain empty since the former Ravenscraig hospital closed in 2014, delivering much needed affordable homes to the Greenock area.
The project has been delivered by C~urb Property Development, Link's commercial subsidiary along with the Scottish Government, Inverclyde Council and two local housing associations, Oaktree and Larkfield. The contractor, McTaggart Construction Ltd, and the Design Team, Stallan Brand Architects, Fairhurst engineers, Armour Construction Consultants and Rankin Fraser have enabled the creation of a new neigbourhood with a high quality sense of place, which fits into an established landscaped environment.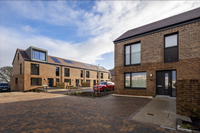 Seventy-eight properties will be available for social rent managed by Larkfield Housing Association, on Link's behalf, whilst Oak Tree Housing Association will acquire 71 homes for social rent on completion of the development.
Link Group Commercial Director Colin Culross said: "I am delighted that Bunston Grove is receiving national industry-wide attention for its modern design and emphasis on placemaking. It will provide much needed affordable homes for people in Greenock and the surrounding area, transforming lives and enhancing a sense of community in the process".
"We are delighted that Bunston Grove has been shortlisted for so many awards and testament to all those who have worked on the project, making it a success."
Sukhdeep Hopper Oaktree Housing Association Director of Property said: "We had an unprecedented demand for these properties with the majority being highly sought after by families seeking larger accommodation. As a result, we were able to quickly allocate all properties as soon as the keys were made available to us. We are pleased that nine of these homes are wheelchair accessible which will improve the quality of living for our tenants as well as their family members. All tenants are very happy with their new homes and have settled in well."
The end of phase two is scheduled for July, with an additional 49 social rented homes, which will be let through Larkfield Housing Association for Link Group.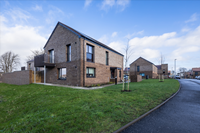 Housing Minister Paul McLennan said: "We want everyone to have a safe, warm affordable home that meets their needs. Taking an abandoned and derelict site and turning it into a mixture of houses and bungalows, including 17 homes designed for wheelchair users demonstrates what partnership working can achieve and I thank all of those involved.
"Supported by more than £15.3 million Scottish Government funding, these 149 affordable homes, all built for social rent in Bunston Grove, contribute to our commitment of 110,000 affordable homes by 2032 of which at least 70% will be for social rent."
Councillor Michael McCormick, Inverclyde Council's convener of environment and regeneration, said: "The development at Bunston Grove has transformed a large, vacant and very prominent site in Greenock and created not just a magnificent housing development but a thriving community.
"There will be almost 200 new, accessible and affordable properties for social rent once fully complete and managed by two of our local housing associations in Larkfield and Oak Tree.
"The site forms a large portion of our current strategic housing investment programme (SHIP) for Inverclyde and ticks many boxes in terms of affordability and accessibility, with many families already moved in and enjoying these modern properties.
"Congratulations to Link and all partners involved for being shortlisted for two Scottish Housing Awards and I wish them the very best of luck on finals night."
All winners will be announced at The Homes for Scotland Annual Lunch on Friday, May 26. Furthermore, the 16th annual Scottish Home Awards take place at the Doubletree by Hilton Glasgow on Thursday, June 22.