Port Glasgow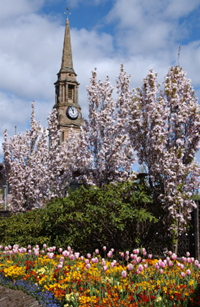 The second largest town in Inverclyde, Port Glasgow grew from humble beginnings around Newark Castle in the 15th century to be the main deep water port for Glasgow and was the main customs centre for the whole of the Clyde until the 19th century.
From its shipping past, modern day Port Glasgow is host to modern manufacturing and service industries and Fergusons Shipbuilders, which is the last remaining shipyard in Inverclyde.
Major regeneration on the site of the former Scott Lithgow and East Glen ship yards is transforming Port Glasgow with a major mixed use development (that will include a new civic square with links to the existing town centre retail area), a new retail park with Tesco Extra plus future development of a hotel, restaurants and a public house.and a variety of non food retailers A variety of new private housing has also been constructed ranging from 2 bedroom flats to 4 bedroom detached homes.