Winter
Follow us on twitter: @Inverclyde for updates on services over the winter period.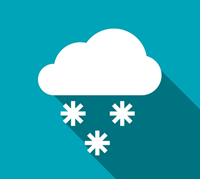 Updates and information about council services affected by severe weather will be published here.
UPDATE: 22 JANUARY 2019:
Our gritting crews had originally been scheduled to be out from 11pm last night and again overnight from 4am ahead of the cold and snowy weather.
In the event they have been continually working overnight in difficult conditions to treat gritting routes and will continue to apply treatment throughout the day and tonight. At the moment they have been focussing on snow routes.
School buses across Inverclyde experienced delays due to the weather this morning.

General advice and links:
Keep aware of the weather forecast by checking the Met Office website: www.metoffice.gov.uk
If you do have to travel, plan your journey, allow extra time and be prepared, for example by having an emergency kit should you be travelling by car
If the snow does lie, safely and carefully try to keep paths and driveways clear. It's easier to clear snow before it gets packed down.
Wrap up warm with layers, and keep at least one room in your home warm. Hot food helps keep you warm from the inside.
There is an increased risk of power cuts during periods of high wind and heavy snow. So it's important to take simple steps to prepare for a short period without electricity
Remember to check on neighbours you think might need an extra helping hand
Visit www.readyscotland.org for more information on preparing for winter weather.
McGills Buses website - www.mcgillsbuses.co.uk
Scotrail website - www.scotrail.co.uk
Traffic Scotland website - www.trafficscotland.org
Page last updated: 22 January 2019