The Young Person's Guarantee (YPG)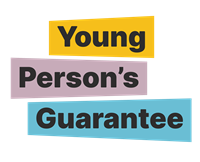 If you are a YOUNG PERSON aged 16 – 24 years and are not in education, training or employment and want to find out what opportunities are available to you, please contact Inverclyde Community Development Trust (The Trust) on 01475 553333 e-mail gemma.callan@the-trust.org.uk and register for their Employability services.
School Leavers Toolkit
The Young Person's Guarantee is a commitment to bring together employers, partners and young people. It aims to connect every 16 to 24 year old in Scotland to an opportunity. This could be a job, apprenticeship, further or higher education, training or volunteering, or enterprise opportunity.
The School Leavers Toolkit launched on 30th May 2022 and is an information resource to support young people as they transition into the post-school world.
​The Toolkit covers a range of topics including mental well-being, work and pay, finances, moving out and housing options, community involvement and young people's rights.
Developed with young people and stakeholder organisations it has been created to be relevant for young people from all backgrounds, so that they can find the information on practical life matters that they need at the time that suits them.
You can find the Toolkit at https://www.myworldofwork.co.uk/schoolleaverstoolkit
The Guarantee is about connecting young people to appropriate opportunities. All unemployed 16 – 24 year olds in Scotland will be given the opportunity to access support to help them into work, to go to university or college, to take up an apprenticeship, take part in training or work experience, or take part in a formal volunteering programme.
The Guarantee is not a new programme, but it provides additional investment to build on successful activity happening locally and nationally. The Youth Guarantee is the over-arching pledge that will sit above all programmes for young people, and many organisations, including Local Authorities, will play their part in helping to make it a reality.
Organisations delivering local activity under YPG include West College Scotland (info@wcs.ac.uk ), Skills Development Scotland (jennifer.thomas@sds.co.uk ), Developing the Young Workforce (info@dywwest.co.uk ). Please also refer to the links on the right.
Enquiries regarding how Inverclyde Council is supporting YPG should be sent to: employabilityandskills@inverclyde.gov.uk .