Upcoming events
Events in Inverclyde Libraries
Live literature events 2019
We are very proud to share the programme of events for our upcoming Live Literature 2019 series! All events are FREE, all you have to do is book a ticket by following the instructions on the brochure (please click on the Live Literature programme in the side column). These events are not to be missed - we look forward to seeing at one (or more!) soon!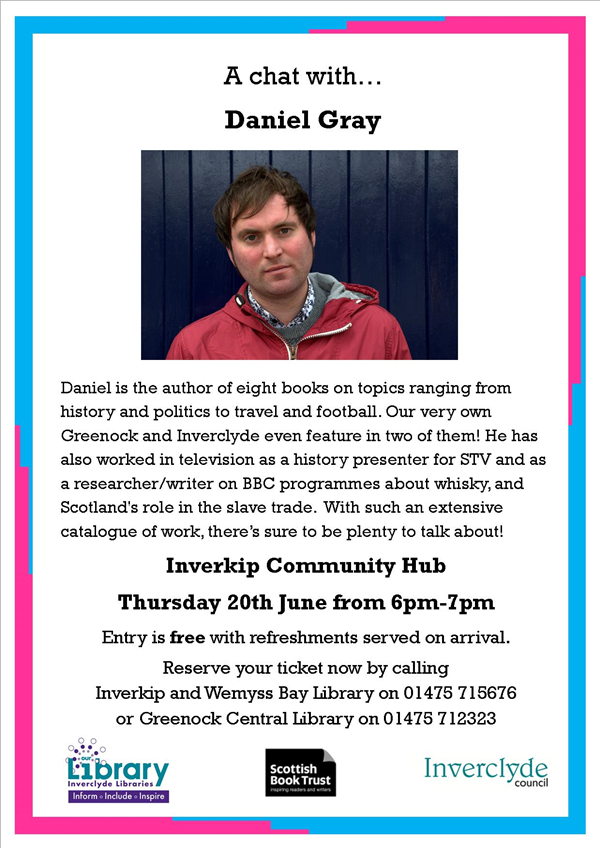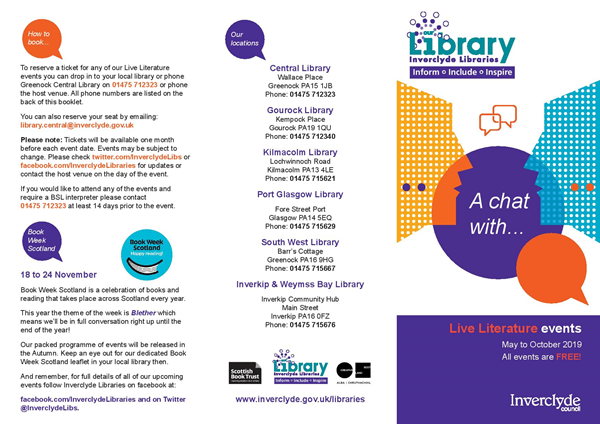 DiscoverIT @ the Library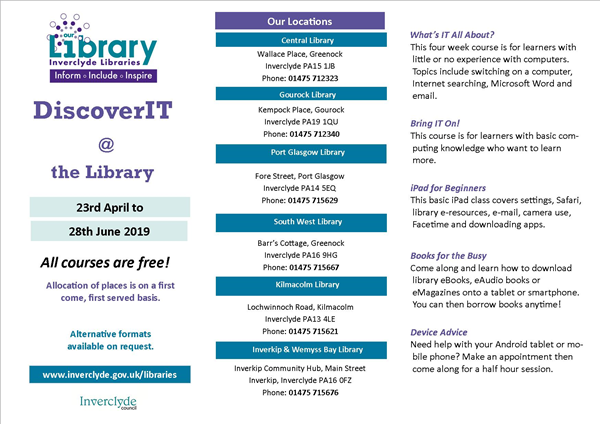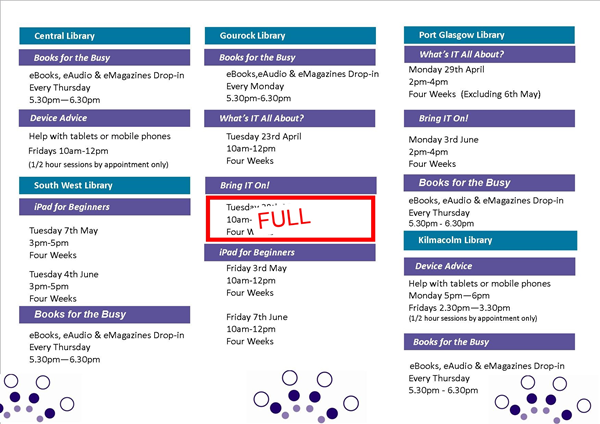 See the pictures for a list of the final round of our fantastic and FREE IT and mobile phone/tablet classes before the summer break. Although our Bring IT On! class at Gourock Library is now full there are still a few places left on:
iPad for Beginners, South West Library, starting Tuesday 4th June for 4 weeks
iPad for Beginners, Gourock Library, starting Friday 7th June for 4 weeks
Bring IT on!, Port Glasgow Library, starting Monday 3rd June for 4 weeks (only one space remaining)
Our small classes are led by our friendly and knowledgeable staff and will give attendees the confidence to make their chosen device work for them and get the most from it while also staying safe online."
Pack a Picnic!
Bookbug Week 2019 is happening across Scotland between 13-19 May and will celebrate 'Bookbug's Big Picnic'.
We'll be celebrating Bookbug across Inverclyde and encouraging everyone to take part in singing and sharing stories together over the whole week. We're inviting all families to take part at their local Bookbug Session where we'll be singing songs, sharing stories and getting creative with picnic blanket decorating! Oh, and did we mention the picnic?! So bring your teddy along to Bookbug week sessions for plenty of fun, frolics and food. For details of all Bookbug Sessions please see our Bookbug Page.
Space Chase 2019 – launches 15th June 2019
The Summer Reading Challenge Scotland is organised by The Reading Agency and is delivered locally by Inverclyde Libraries. It is the UK's biggest annual reading promotion for children aged 4 to 11. Although the Challenge is mainly aimed at primary ages all children can take part.
Each year the Challenge has a different theme and the theme for this year is Space Chase, we're looking forward to a summer of intergalactic adventures!
The aim of the Challenge is for children to read six books over the summer holidays. The books can be any of their choice… fact books, joke books, picture books, audiobooks and e-books.
To launch our Space Chase Challenge we'll be hosting a Chat With...Keith Charters; author of the hilarious Lee's adventure novel series for ages 8+. Keith is an inspiring, entertaining and energetic performer renowned for fun-filled sessions of 'stand-up literature' – part stand-up comedy, part literature. He'll be talking all things space, writing and publishing and is happy to talk with children or grown-ups about anything relating to writing or publishing (or space!) so prepare your chat and join us to launch Inverclyde's Space Chase on Saturday 15th June, Greenock Central Library, 10-11am. Suitable for anyone age 8+
Are you up for the challenge?!
To take part in the Summer Reading Challenge children need to have their own library membership (if not already a member, it's really easy to join!).
You can sign up for the Challenge at any of our local libraries
On joining the Challenge you will receive a collectors pack and bookmark.
Simply read six books or more collecting stickers along the way.
When you complete the Summer Reading Challenge you'll get a certificate and very own stretch alien!
All children who complete the Challenge will be invited to an Awards Ceremony in September, where they will be presented with their Gold Medal. Children who are unable to attend the Awards Ceremony will be able to collect their medal at their local library after the Awards Ceremony takes place.
Page last updated: 18 June 2019