Upcoming events
Events in Inverclyde Libraries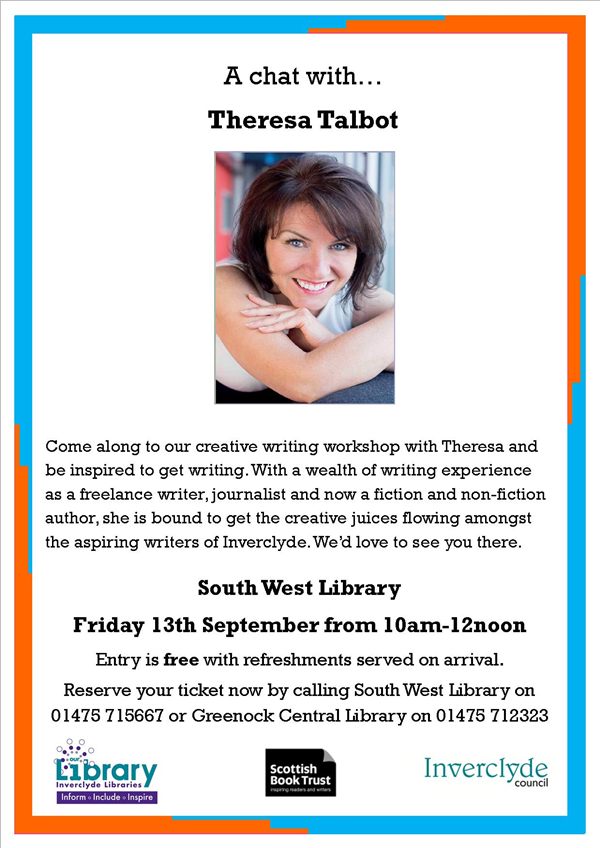 Live literature events 2019
We are very proud to share the programme of events for our upcoming Live Literature 2019 series! All events are FREE, all you have to do is book a ticket by following the instructions on the brochure (please click on the Live Literature programme in the side column). These events are not to be missed - we look forward to seeing at one (or more!) soon!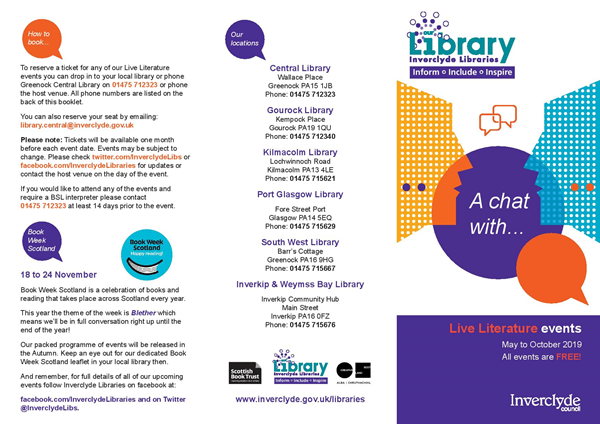 Summer Reading Challenge 2019: Space Chase - 15th June – 24th August
The Summer Reading Challenge Scotland is organised by The Reading Agency and is delivered locally by Inverclyde Libraries. It is the UK's biggest annual reading promotion for children aged 4 to 11. Although the Challenge is mainly aimed at primary ages all children can take part.
Each year the Challenge has a different theme and the theme for this year is Space Chase, we're looking forward to a summer of intergalactic adventures!
The aim of the Challenge is for children to read six books over the summer holidays. The books can be any of their choice… fact books, joke books, picture books, audiobooks and e-books.
Are you up for the challenge?!!
The Summer Reading Challenge will be running from Saturday 15th June to Saturday 24th August.
To take part in the Summer Reading Challenge children need to have their own library membership (if not already a member, it's really easy to join!).
You can sign up for the Challenge at any of our local libraries during the Challenge period.
On joining the Challenge you will receive a collectors pack and bookmark.
Simply read six books or more collecting stickers along the way.
When you complete the Summer Reading Challenge you'll get a certificate and your very own stretch alien!
All children who complete the Challenge will be invited to an Awards Ceremony in September, where they will be presented with their Gold Medal. Children who are unable to attend the Awards Ceremony will be able to collect their medal at their local library after the Awards Ceremony takes place.
Page last updated: 14 August 2019