Upcoming events
Device Advice
Having problems with your smartphone?
Want to learn more about using your tablet? We can help!

From turning your device on, connecting to Wi-Fi and adjusting volume controls, to using email, social media, staying safe online and browsing the internet, our friendly and knowledgeable staff at your local branch can help.
Book your free one-to-one session by calling your local branch, or for further information email library.central@inverclyde.gov.uk

Sessions begin on 6th September and will be available until 29th October. Contact your local branch to book:
Central: Friday 11am-12pm. Call 01475 712323.
Gourock: Friday 11am-12pm. Call 01475 712340.
Port Glasgow: Tuesday 11am-12pm. Call 01475 715629.
Kilmacolm: Monday 5pm-6pm. Call 01475 715621.
South West: Tuesday 2pm-3pm. Call 01475 715667.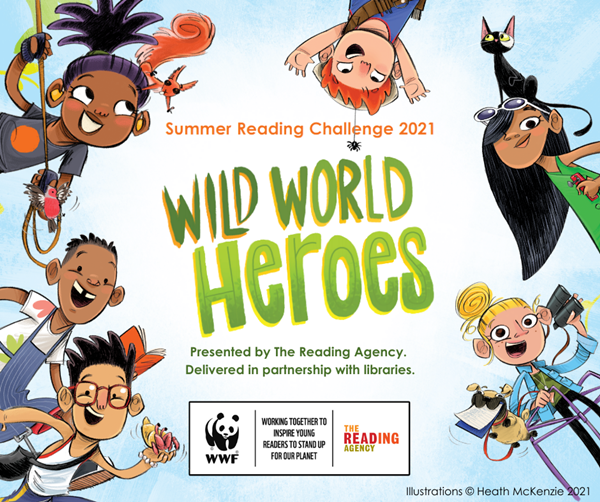 The Reading Agency and Inverclyde Libraries are excited to introduce
Wild World Heroes, Summer Reading Challenge 2021; 19th June – 28th August
This year, the Challenge takes place in Wilderville, where our young heroes live.
Wilderville is a pretty cool place, but our heroes have been noticing some problems.
Helped by their trusted animal companions, they're ready to take action to save the natural world.
This year's themes are:
The Natural World
Action for the Environment
Fun with Friends
Young Heroes
Adventure
It's so easy to take part!
From the 19th June
Visit the library to sign up
Children will be encouraged to read 6 books to complete the challenge.
As they read books for the Challenge, their stickers will fix the environmental problem in each area and make Wilderville a better home for everyone.
Or….Request a Connect & Collect Pack
A pack of 6 books, stickers and the fold-out map of Wilderville will be prepared for you. Phone your local library to request a pack then just pop into the library to collect.

Please check with your local branch for details of current opening hours:
Greenock Central 01475 712323
Gourock 01475 712340
Inverkip & Wemyss Bay 01475 715676
Kilmacolm 01475 715621
Port Glasgow 01475 715629
South West (Barr's Cottage) 01475 715667

Or…go Online
Children can take part online at www.wildworldheroes.org.uk
Children just sign up to the easy-to-use website and create their own profile and record their progress.
What to read ?
Children will find a selection of amazing new library books to borrow when they visit the library.
Remember children choose what books they want to read – whether it's fiction, non-fiction, joke books or comics. Let's get reading!
Inverclyde Libraries offers free access to eBooks and eAudio via Borrowbox. For more information about how to access the eBook and eAudio collection, please visit https://bit.ly/BorrowBoxInfo.

All children who complete the Summer Reading Challenge will be awarded with a Certificate and Medal.
Let's make this a brilliant year for the Summer Reading Challenge in Inverclyde.
We have a whole summer of fun online and in-branch activities planned. If you'd like to be kept updated on these simply email src@inverclyde.gov.uk