Local Development Plan Review
The Local Development Plan sets out the Council's strategy, policies and proposals for the use of land and buildings within Inverclyde and is the document the Council uses to determine planning applications and provide advice on development proposals.
Inverclyde Council is preparing a new Local Development Plan which, on adoption, will supersede the 2019 Plan.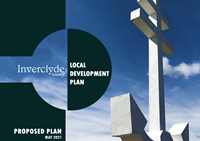 Proposed Plan publication
On 17 May 2021, Inverclyde Council published its Proposed Local Development Plan. This follows from the publication of the Main Issues Report in December 2020.
The Proposed Plan is an important stage in the preparation of the new Local Development Plan as it represents the Council's settled view as to what the final adopted content of the Plan should be. However, those with an interest in the plan can make representations setting out modifications which they would like to be made to it. Representations of support for the proposed plan can also be submitted.
The Proposed Plan, and its accompanying proposals maps, can be viewed or downloaded via the links on this page.
A number of supplementary guidance, background and supporting documents are published alongside the Proposed Plan and are available to view or download from this page:
Draft Supplementary Guidance on Affordable Housing in the Inverclyde Villages
Draft Supplementary Guidance on Enabling Development
Draft Supplementary Guidance on Energy
Draft Supplementary Guidance on Planning Application Advice Notes
Draft Supplementary Guidance on Priority Places
Proposed Action Programme
Strategic Environmental Assessment – Environmental Report
Habitat Regulations Appraisal
Equalities Impact and Fairer Scotland Duties Assessment
Proposed Development Site Assessment
Housing Land Technical Report 2021
The Proposed Plan consultation period runs until 9 July 2021. During this time responses to the Main Issues Report can be submitted by:
e-mail to ldp@inverclyde.gov.uk with the subject heading 'Local Development Plan'
completing the representation form or e-form available at www.inverclyde.gov.uk/newldp
writing to Planning Policy, Regeneration & Planning, Municipal Buildings, Clyde Square, Greenock, PA15 1LY
To discuss the Proposed Local Development Plan, please contact a member of the Council's Planning Policy team:
Alan Williamson- 01475 712491
Ash Hamilton – 01475 712463
Margaret Pickett – 01475 712493