Inverclyde Works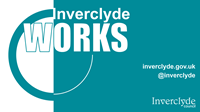 The council is going through a jobs recovery project to allow some jobs to be released to help increase job opportunities.
Employability programmes are also being focussed to support the local economy. Some of these programmes have already been in existence and others, such as the national Kickstart programme, are new and will be launching later in the year.
On this page we will highlight some current vacancies and employability programmes and jobs and programmes to look out for.
We'll also include some useful places to access support, training and jobs the council funds through local partners to deliver employability programmes.