Duke of Edinburgh Award
The Duke of Edinburgh Award (DofE) is a personalised and challenging programme of activities that will help you get fitter, learn new skills, help others, experience adventure, meet new people and give you a great sense of achievement.
DofE is: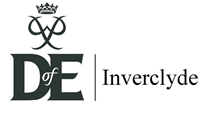 Non-competitive, a personal challenge, not a competition
Available to all, anyone can do it
Voluntary, its up to you
About personal development, it is taking part that matters
Personalised, your programme is designed by you
Balanced, it will stretch you in all directions
Progressive, you improve at your own pace
Achievement focused, you set your own goals to show improvements
Demands commitments, it a marathon not a sprint
Enjoyable and fun
The Award involves three progressive levels:
Each level contains four sections:
Volunteering
Skills
Physical
Expedition
At Gold level, you will also be required to take part in a 5 day long residential project away from home.
The DofE Award is open to all 14-24 year olds:
Bronze Award – 14 years and over
Silver Award – 15 years and over
Gold Award – 16 years and over
DofE is available through most secondary schools in Inverclyde, open DofE groups in your local community, Youth Clubs and a variety of organisations in the area.