Fostering
Foster for Inverclyde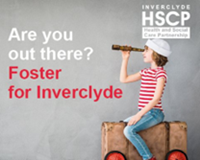 Inverclyde is looking for foster carers to provide a loving and safe placement for children and young people who are unable to live with their own families.
Who can Foster?
Foster Carers can come from a range of different backgrounds and different life experiences. All we ask is that you have a spare bedroom and are committed to providing a nurturing and secure home to help children and young people grow and develop.
What Types of Fostering is there?
Fostering can be, emergency, interim, Longterm, permanent or short breaks.
Support for Foster Carers
We offer a range of supports to Inverclyde Foster Carers. These include
A dedicated Family placement social worker who will provide professional help and advice.
Regular training
Regular Support groups where you have the opportunity to meet with other foster carers.
Membership of the Fostering Network who provide independent legal advice, support and guidance to foster carers nationwide
All foster carers receive an allowance and an additional fee based on skill level.
Next Steps
If you are interested in Fostering please contact our Fostering Team either by completing the fostering enquiry form, listed under related links on this page, or by calling 01475 715365.