Councillor Robertson, Elizabeth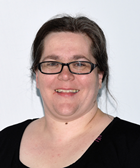 Contact Details
Address: 101 Octavia Terrace, Greenock, PA16 7PY
Telephone: 01475 712975
Mobile: 07768 500090
Email: liz.robertson@inverclyde.gov.uk
You can also write to Councillors at Inverclyde Council, Municipal Buildings, Greenock PA15 1LY,
or call the Council Offices on 01475 712727, 01475 712020 or 01475 712305.
NOTE: The council is not responsible for any information contained on members' personal web sites.
Outside Bodies
APSE.
Birkmyre Trust.
Greenock Arts Guild Board.
Inverclyde Alliance Board.
Inverclyde Community Development Trust.
Inverclyde Integration Joint Board.
Inverclyde Integration Joint Board Audit Committee (Vice-Chair).
James Campbell Buchanan Trust.
National Association of Councillors.
Renfrewshire Educational Trust - Trustees.
Scottish Local Government Forum Against Poverty (Substitute).
Page last updated: 28 October 2020