Councillor McCabe, Stephen
Leader of the Council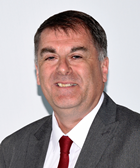 Surgery Details
Surgery details to follow.
Outside Bodies
APSE
Birkmyre Trust
CoSLA
Glasgow & Clyde Valley City Deal Joint Committee
Greenock Arts Guild Board
Inverclyde Alliance Board
Kilmacolm Community Centre Co Ltd
National Association of Councillors
River Clyde Homes Board
Scotland Excel Joint Committee (Substitute)
Scottish Local Government Forum Against Poverty
Details
Contact information
Address:
10 Victoria Gardens Kilmacolm PA13 4HL
Additional Info:
You can also write to Councillors at Inverclyde Council, Municipal Buildings, Greenock PA15 1LY, or call the Council Offices on 01475 712727, 01475 712020 or 01475 712116.
NOTE: The council is not responsible for any information contained on members' personal web sites.
Committee Memberships
Page last updated: 26 September 2018