Councillor Clocherty, Jim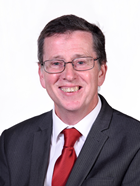 Contact Details
Address: 1 Mearns Street Greenock PA15 4PP
Telephone: 01475 712975
Mobile: 07827 257941
Email: jim.clocherty@inverclyde.gov.uk
You can also write to Councillors at Inverclyde Council, Municipal Buildings, Greenock PA15 1LY,
or call the Council Offices on 01475 712727, 01475 712020 or 01475 712305.
NOTE: The council is not responsible for any information contained on members' personal web sites.
Surgery Details
I'm currently not holding face to face surgeries.
However, I remain contactable via the options listed:-
Mobile:- 07827 257 941
Email:- jim.clocherty@inverclyde.gov.uk
Outside Bodies
APSE
The Birkmyre Trust
Clyde Valley Learning and Development Joint Committee (Substitute)
CoSLA - Environment and Economy Board
Inverclyde Community Development Trust
Inverclyde Leisure
National Association of Councillors
Renfrewshire Educational Trust - Trustees
Riverside Inverclyde Board
Watt Trust
Page last updated: 24 June 2022