Councillor Ahlfeld, Ronnie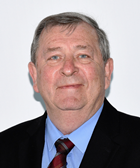 Surgery Details
Surgery details to follow.
Outside Bodies
APSE
Birkmyre Trust
Clyde Ferry Users Group
Fair Trade Steering Group
Inverclyde Community Development Trust
Inverclyde Integration Joint Board (Proxy)
Inverclyde Leisure
James Campbell Buchanan Trust
National Association of Councillors
Shared Services Joint Committee
Details
Contact information
Address:
1d Cragburn Gate Gourock PA19 1NZ
Additional Info:
You can also write to Councillors at Inverclyde Council, Municipal Buildings, Greenock PA15 1LY, or call the Council Offices on 01475 712727, 01475 712020 or 01475 712305.
NOTE: The council is not responsible for any information contained on members' personal web sites.
Committee Memberships
Page last updated: 26 September 2018