Councillor Brooks, Graeme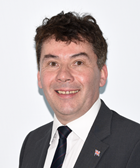 Contact Details
Address: 58A Newton Street, Greenock, PA16 8SP
Telephone: 01475 712975
Mobile: 07768 555885
Email: graeme.brooks@inverclyde.gov.uk
You can also write to Councillors at Inverclyde Council, Municipal Buildings, Greenock PA15 1LY,
or call the Council Offices on 01475 712727, 01475 712020 or 01475 712305.
NOTE: The council is not responsible for any information contained on members' personal web sites.
Outside Bodies
APSE.
Birkmyre Trust.
Clyde Muirsheil Park Authority Joint Committee (Substitute).
Glasgow Airport Consultative Commitee (Substitute).
Inverclyde Alliance Board.
Inverclyde Leisure.
National Association of Councillors.
Renfrewshire Valuation Joint Board.
River Clyde Homes Board.
Shared Services Joint Committee.
Strathclyde Concessionary Travel Scheme Joint Committee (Substitute).
Strathclyde Partnership for Transport (Substitute).
Page last updated: 28 October 2020