Schools
Here you can find out everything you need to know about schools within Inverclyde.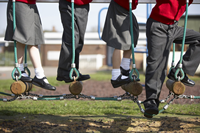 For the most up to date information during Covid-19 visit our related pages at www.inverclyde.gov.uk/coronavirus
In Inverclyde we currently have
6 Secondary Schools
20 Primary Schools
20 Early Years Establishments
3 ASN units
We are in the process of undertaking a comprehensive refurbishment and new build programme which will bring all of our establishments up to a standard suitable to deliver the quality of education expected in the 21st Century.
Inverclyde's schools and early year establishments now have their own websites - (links are available on this page). Information relating to an establishment (i.e. school handbook, standards and qualities reports, contact details) will be located within the schools / establishments own webpage.
Page last updated: 12 June 2020