Coronavirus (covid-19)
PROTECT YOURSELF AND OTHERS: stay at home, only go outside for essential food, health and work reasons, stay two metres (6 feet) away from other people, wash your hands regularly and as soon as you get home.
This page includes links to essential public health information including NHS Inform and Public Health Scotland.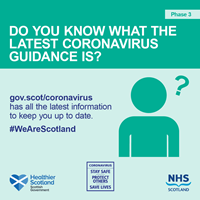 The current guidance from Government is to follow the FACTS.
Face coverings must be worn in shops and on public transport
Avoid crowded places
Clean your hands regularly
Two metre distance to be maintained
Self Isolate and book a test if you have symptoms
Please follow the new rules and protect yourself and others.
Below are some updates on services in Inverclyde, support for business and resdients and, if you are an Inverlcyde Council employee working from home, we will publish employee communication updates and guidance on here in the 'Inverclyde Council employees' section.
Page last updated: 23 July 2020